Safety Tops secure canvas lift buckets at any height.
Press Release Summary: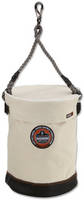 Available in 10 and 12.5 in. dia, Arsenal® Canvas Bucket Safety Tops, models 5738/5739, address risk of dropped equipment while working at heights by quickly securing bucket contents at any altitude. Dual Class YKK buckles and overall design facilitate on/off lift bucket coverage, while ability to unfasten one buckle also affords access to tools and materials. Properly secured, tops combine with Arsenal® Leather Bottom Buckets to safely hold up to 150 lb of equipment in any position.
---
Original Press Release:

Ergodyne Introduces Arsenal® Canvas Bucket Safety Tops



ST. PAUL, Minn. - Ergodyne is excited to announce today the addition of Arsenal® Canvas Bucket Safety Tops (models 5738 and 5739) to the Arsenal® Lift Bucket Series. This new product addresses the significant risk of dropped equipment while working at heights by providing an effective solution to secure bucket contents quickly and effortlessly at any altitude.

With their patent pending design and best in class YKK buckles, the bucket tops allow for easy on, easy off lift bucket coverage and maximum protection for equipment and workers. Properly secured, the new bucket tops combine with Ergodyne's Arsenal® Leather Bottom Buckets to safely hold up to 150 pounds (68kg) of equipment in any position.

"The two-buckle design of the new Arsenal® Canvas Bucket Safety Tops delivers a straightforward, no nonsense way to safely secure any load," said Tom Votel, CEO and president of Ergodyne. "We recommend that any equipment elevated higher than a person's shoulder be tethered, topped and tagged with a weight rating. Our new bucket system allows users to achieve these important safety precautions."

The new bucket tops not only provide safety on the way up and on the way down, they also offer convenient access to bucket tools and materials while at heights. To access tools or materials at heights, users unfasten one buckle while leaving the other fastened to keep the bucket top attached. To secure the bucket for lifting, workers simply fasten both buckles for a dependable seal.

Materials and construction of the bucket tops and bottoms are tested rigorously to ensure they hold up to harsh applications, including heavy construction, utilities, ironwork, roofing, masonry, contracting, forestry and arboriculture.

KEY FEATURES OF MODELS 5738 AND 573918 Oz. Canvas
Best in class YKK buckles
Heavy gauge nylon stitching
Patent pending
PP webbing reinforced
Available in 10" and 12.5" diameter

ABOUT ARSENAL® EQUIPMENT BAGS Arsenal® Equipment Bags include a wide assortment of synthetic tool bags, canvas bags, lift buckets, gear bags, trauma bags, fire and rescue bags and accessories. All are designed for specialized applications and made with professional grade materials.

ABOUT ERGODYNE

Ergodyne has pioneered the development of products for worker protection and performance in the United States, Canada and Europe for more than 25 years. During that time, the company has built a complete line of products that provide protection, regulate temperature, and enhance productivity. These include ProFlex® Gloves, ProFlex® Knee Pads, ProFlex® Supports, Trex(TM) Footwear Accessories, Chill-Its® Cooling Products, N-Ferno(TM) Warming Products, GloWear® Hi-Vis Apparel, Squids® Lanyards, Arsenal® Equipment Storage Systems and CORE Performance Work Wear(TM). For more information on Ergodyne's complete line of gear, visit www.ergodyne.com or call 800-225-8238.

Contact Name:
Lindsay Votel

Contact Email:
lindsay.votel@ergodyne.com

More from Electrical Equipment & Systems