Safety Switches prevent access.
Press Release Summary: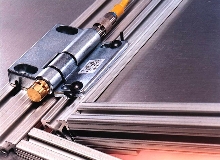 Hinge-style Safety Interlock Switches are integrated and encapsulated into load-bearing hinge to provide protection from tampering. Components are concealed inside hinge to prevent access and provide protection from mechanical impact and washdown. Applications include hinged machine covers, doors, gates, and safety fencing systems. Switches have IEC IP67 rating, IEC 60947-5-1 positive-opening safety contacts, and can support axial load of 165 ft-lb.
---
Original Press Release:

Hinge-Style Safety Interlock Switches Protect Against Tampering & Mechanical Impact



Minneapolis, MN-May 17, 2002-Banner Engineering Corp. has announced new Hinge-style Safety Interlock Switches. These unique safety switches are integrated and encapsulated into a load-bearing hinge to provide a high degree of protection from tampering. All switch components are concealed inside the hinge to prevent access and to provide exceptional protection from mechanical impact and washdown. Applications include hinged machine covers, doors, gates, and safety fencing systems.

The inherent physical protection provided by the new switches gives them superior performance to actuator-operated safety switches, achieving a rating of IEC IP67. The hinge-style switch can support an axial load of 750 N (165 lbf) and more than 1,000 N (220 lbf) in radial direction. List prices begin at $140.

Banner Hinge-style Safety Switches also provide exceptional safety protection, featuring positive-opening safety contacts (IEC 60947-5-1). Category 4 protection can be achieved by utilizing two Hinge-style Safety Switches properly interfaced with an appropriate controller (or a lower safety category using one Hinge-style Switch and controller).

Banner Hinge-style Safety Switches are similar in appearance to standard door hinges to fit existing applications and provide a clean, aesthetically-pleasing appearance without being obtrusive. They feature a full 180° range of travel, and the switching point can be permanently set anywhere in this range of travel. After the switch point has been set, the actuation of The safety contact is ±3° of hinge movement, allowing these switches to be used on unique cover and door designs while still providing very accurate switching.

The new switches are also extremely easy to install and are connected using an integrated 4-pin Micro-style quck-disconnect fitting. They have an environmental rating of NEMA 4 and IEC IP67. They have a maximum switching speed of 20 operations per minute and a mechanical life of one million operations. Operating temperature is -25° to +70°C (-13° to +158°F). An identical non-safety hinge is also available to match the hinge-style switch.

Banner Engineering is the world's leading manufacturer of electronic machine guarding systems, photoelectric and ultrasonic sensors, fiber optic assemblies, and precision measurement systems. For further information, contact: Banner Engineering Corp., PO Box 9414, Minneapolis, MN 55441. PH: 888-373-6767 (Toll-free North America), or 001-763-544-3164 (International). FAX: 763-544-3213. Web: www.bannerengineering.com E-commerce: All
Tonight we will be adding an enhancement to the edit system which will allow us to save contact information.

Saving Contact Info
The benefit will be to make the ability to notify releases ossuaries of the upload of their release and to begin to build our own database of contact information. Below you will see a screen shot of the new data entry page. Simply copy and paste the submitters email address into the email contact and contact name field. This field should be populated with the addresses from either the manufactures or pr firm. It should not be used for third party sources like pr newswire. It is not a required feild as some second judgment is required
buybanneronline.com Email: sensors@bannerengineering.com

More from Computer Hardware & Peripherals