Safety Railing Kits come with pre-built uprights.
Press Release Summary: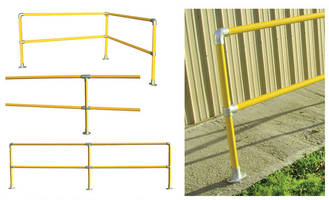 Designed to be used around machinery and equipment, as well as walkways and other areas, EasyRail can be assembled quickly by placing supplied horizontal rails through corrosion-resistant pipe fittings on pre-built uprights and using only hex key to tighten set screws. They are pre-packaged with 6 ft post spacing, for creating railing or enclosure approximately 12 ft long. OSHA-compliant units are available as straight or corner kits plus extension kit that will add 6 ft installation.
---
Original Press Release:

Easyfit(TM) Introduces New 'EasyRail' Safety Railing Kits with Pre-Built Uprights for Fast, Easy Installation of OSHA-Compliant Railing



(APRIL 2009) - Easyfit, Inc., North Canton, Ohio announces the introduction of its "EasyRail" safety railing kits featuring pre-built uprights to reduce installation time and costs. The EasyRail safety barrier system is designed to be used around machinery and equipment, truck and loading docks as well as walkways and other areas where personnel access should be restricted because of safety concerns. EasyRail meets OSHA standards, and since each upright is pre-assembled, every railing set-up will be OSHA-compliant without measuring, according to Easyfit.

EasyRail can be assembled quickly and easily by placing the supplied horizontal rails through the corrosion-resistant pipe fittings on the pre-built uprights and using only a hex key to tighten the set screws. No welding, threading or drilling is required, and EasyRail may be secured using bolts or chemical anchors attached to the base fittings, the company states.

EasyRail safety railing kits are pre-packaged with six-foot post spacing will create a railing or enclosure approximately 12 feet long. They are available either as a Straight Kit or Corner Kit plus an Extension Kit that will add six feet to the installation. The 1-½" pipe rails included with EasyRail are powder-coated "Safety Yellow" for greater visibility and may be cut-to-size where shorter sections are needed, Easyfit says.

For more information, contact:

Easyfit, Inc.

2751 Werner Church Road,

N.E., Building 4C,

North Canton, OH 44721.

Toll-Free: 877-EASYFIT (877-327-9348).

Phone: 330-494-9610.

Fax: 330-494-9615.

E-Mail: sales@easyfit.com.

For immediate information or to order online, visit: http://www.Easyfit.com/easyrailinfo.html.

Please send reader service inquiries to the above address to:

Michael Steiner,

Sales Manager,

Easyfit, Inc.

(Electronic inquiries to: sales@easyfit.com)

More from Electronic Components & Devices