Safety Mats protect personnel around hazardous equipment.
Press Release Summary: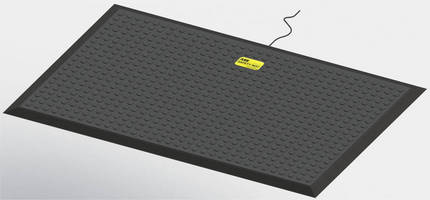 Arranged as boundary and typically connected to monitoring system, Safety Contact Mats safeguard personnel around machines, presses, robots, and other active equipment. When someone steps on mat, surface triggers control signal to stop circuit of nearby equipment. Internal switch design ensures equipment motion stoppage is immediate. Available in standard sizes from 12 x 12 in. up to 48 x 60 in., mats have dotted polyurethane non-slip surface layer and withstand industrial conditions.
---
Original Press Release:

ABB JOKAB SAFETY Releases Safety Contact Mats for Safe-guarding Personnel Around Potentially Hazardous Equipment



Mats provide a valuable boundary of safety; when someone steps on a mat the surface triggers a control signal to stop the motion of nearby equipment



WESTLAND, Mich. – ABB JOKAB SAFETY, a leading supplier of machine safety equipment, has released a new line of Safety Contact Mats for safeguarding personnel around machines, presses, robots and other types of active equipment. Safety Mats are typically connected to a monitoring system and placed as a boundary around potentially hazardous equipment. When someone steps on a mat the surface triggers a control signal to the stop circuit of the nearby equipment. A switch design inside the mat assures that the equipment motion stoppage is immediate, providing a valuable layer of safety in industrial environments.



The new JOKAB Safety Contact Mats, which feature a dotted polyurethane non-slip surface layer, are able to withstand the toughest industrial conditionsand are impervious to oil, acid or caustic substances. The mats are available in standard sizes ranging from 12" x 12" up to 48" x 60", and are commonly placed in sections around equipment. They can be affixed together and mounted to the floor with either aluminum ramp rails or integrated rubber ramp trim.The mats consist of two conductive plates which are separated by a proprietary isolating layer, and are maintenance free.



"The new ABB JOKAB SAFETY contact mats have been developed to reduce the costs associated with monitoring personnel inside hazardous areas, costs typically associated with safety laser scanners or horizontally mounted safety light curtains," said Rich Gibson, ABB JOKAB SAFETY product manager. "These mats, built in the United States, are the perfect blend of economical designand extreme robustness for tough industrial applications."



Safety Mat Electrical Connection



Safety Contact Mats must be connected to a suitable monitoring unit (e.g. ABB JOKAB SAFETY safety relays RT6, RT7A/B, RT9, Vital with Tina 6A or Pluto Safety PLC). The monitoring unit monitors the functionality of the contact protection and detects any breaks or short-circuits in the lines. Several safety mats can be connected in series while still retaining the same level of safety. When pressure is applied, the active surface of the contact area in the contact protection is closed and the safety output on the monitoring unit trips. A stop signal will be sent to the machine's safety circuits preventing any dangerous movements.



Safety Contact Mats are used in a variety of industrial applications including machining centers, robotic work cells, automated cells, and conveyor transfer stations; and in commercial applications for automatic door opening and detecting the presence of people.



More information on the complete line of ABB JOKAB Safety systems and productsis available at www.jokabsafetyna.com.



About ABB

ABB (www.abb.com) is a leader in power and automation technologies that enable utility and industry customers to improve performance while lowering environmental impact. The ABB Group of companies operates in around 100 countries and employs about 130,000 people.



About ABB Low Voltage Products

ABB JOKAB SAFETY (www.jokabsafetyna.com) is a business unit of the ABB Low Voltage Products (LVP) division (www.abb.us/lowvoltage). ABB LVP manufactures low-voltage circuit breakers, switches, control products, wiring accessories, enclosures and cable systems to protect people, installations and electronic equipment from electrical overload, and complete machine safety systems and controls.



Alex Miller

262- 236-3710

alex.x.miller@us.abb.com



ABB JOKAB SAFETY

6471 Commerce Drive

Westland MI 48185

888- 282-2123

www.jokabsafetyna.com

More from Test & Measurement