Safety Light Curtain incorporates laser alignment system.
Press Release Summary: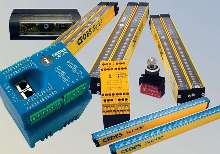 Safe400 measures 15 x 20 mm and controls over, under, and perimeter protection, dynamic and static blanking, and muting and cycle modes. Curtain conforms to safety category 4, in accordance with EN/UL 61496-1,-2, and is available in safety category 2. ILAS Laser alignment system is integrated within edge so light curtains can be aligned within seconds. Multifunctional safety relay is for integration in completed machines. Safe400 offers protection field the complete length of light curtain.
---
Original Press Release:
CEDES' Safety Palette completed by Safe400

With the introduction of the Safe400 safety light curtain, the worldwide active sensoric specialist CEDES has completed its impressive portfolio of the newest technological generation of sensor products.

With the safety light curtain Safe4, CEDES has a sensoric product within the marketplace that has already proven itself a thousandfold in industrial applications. With the new Safe400 CEDES now offers, in the truest sense of the word, a new dimension in safety light curtains: although almost as slender as a ballpoint pen (cross-section 15 x 20 mm), the Safe400 controls, besides the classic functions such as over, under and perimeter protection, also advanced features such as dynamic and static blanking, muting and cycle modes. Naturally more monitored areas can be combined with one another and you can choose between resolutions for hand or finger protection. Since the controller technology is not located in the safety light curtain, the Safe400 is in the position to offer a protection field the complete length of the light curtain. This addition offers a whole new range of application possibilities, especially on small machines with limited space. Both the Safe4 as well as the Safe400 conform to safety category 4 (in accordance with EN/UL 61496-1,-2) and both products are also available in safety category 2 (Safe2+, Safe200). One of the biggest advantages of CEDES safety light curtains is the laser alignment system ILAS, which CEDES exclusively offer worldwide. Thanks to ILAS, which is integrated within the edge, the safety light curtains can be aligned within seconds at the push of a button. Arduous testing, readjustments and the need for specialist alignment software has definitely become a thing of the past.

Parallel to the Safe400 safety light curtain, CEDES has brought a multi-functional safety relay to the market which is particularly well suited for integration in completed machines. With the connection of up to ten safety components (light curtains, start and stop buttons, safety door switches, muting sensors...) the SafeC 400 takes over the complete safety monitoring of your control cabinet. Also, the ESPROS/QA-100 camera sensor has recently been successfully introduced to the market and is ideal in industrial automation for the control of positioning, completeness and quality (e.g. product labels). Thanks to the use of the newest technology, the price of the high quality inspection system, in spite of the CMOS camera technology, can be bought for well under 1000 Euros. In comparison to similar 'stand-alone camera systems' this means a massive price advantage.

ESPROS/QA-100 is the newest development in a long line of CEDES products for industrial automation: whether light curtains for measuring, counting, monitoring or detecting, CEDES offers a complete palette for the varying applications. One of the biggest advantages of CEDES is its continuing focus on sensors and sensor technologies. This 'concentration of skill' has lead to a comprehensive sensor 'know how', which flows directly into the extremely flexible products. CEDES is also therefore a popular partner if a project arises that requires specialist engineering solutions. From the integration of the customers wishes through the consideration of the current standards to the corresponding transformation of safety products, CEDES has at its disposal both the know-how and also the infrastructure to find the best and most cost effective solutions for the customer.

A complete overview of CEDES safety products can be found at www.cedes.com. Developers and constructors can also order the free Safety & Automation standard handbook from info@cedes.com

More from Sensors, Monitors & Transducers