Safety Light Curtain eliminates dead zones.
Press Release Summary: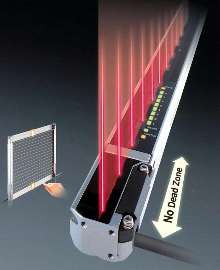 Series SL-C increases worker safety in and around hazardous areas or dangerous machinery by creating complete edge-to-edge detection zone. Optical system allows light elements to be positioned only 0.20 in. from edge of light bar segment. It is virtually impossible for any part of body to penetrate light curtain. Series includes 15 models with zones ranging from 5.51-49.61 in. All comply with ANSI, OSHA, JIS, and IEC Category 4 international safety standards and regulations.
---
Original Press Release:

New Industry First Safety Light Curtain With No Dead Zone (Edge-to-Edge Detection) Greatly Increases Worker Safety


Keyence Corporation of America, Woodcliff Lake New Jersey:
Keyence announces an "Industry First" in safety light curtain design. The new SL-C Series Safety Light Curtain eliminates the "dead zones" found with traditional light curtains and significantly increases worker safety in and around hazardous areas or dangerous machinery by creating a complete "edge-to-edge" detection zone. The SL-C Series complies with ANSI, OSHA, JIS and IEC Category 4 international safety standards and regulations.

The Keyence SL-C Series incorporates a new optical system design which allows light elements to be positioned only 5mm (0.20") from the edge of a light bar segment. It is virtually impossible for any part of the human body, such as workers hands, to penetrate the light curtain into hazardous, unsafe areas. With the new SL-C Series, even a finger cannot penetrate the small 5 mm space. With conventional light curtain systems, a hand can easily fit through the large dead zone at the bottom or top of the curtain. Bulky connecting parts or support structures contribute to the size of the dead zone. The Keyence SL-C design solution uses a unique "edge-to-edge" bracket configuration with a rotational mechanism enabling SL-C segments to be configured without dead zones. The unique bracket design enables L-shaped or U-shaped configurations to be easily constructed while maintaining the small 5 mm wide impenetrable space at corners.

The SL-C Series Controller circuitry is built-in, eliminating the need for a large, expensive external controller thus reducing cost and conserving installation space. The SL-C Series includes 15 models offering zones ranging from 140 mm / 5.51 " to 1260 mm / 49.61 " (8 to 64 beam axes). Wiring is easy as well. The Safety Relay, Model SL-R11, connects to the SL-C with a "One-Touch" quick connector thus greatly simplifying the wiring and installation process

To further simplify installation, setup/alignment and operation, the SL-C incorporates an 11-light Bar LED Indicator that monitors the light received intensity from light elements in the transmission segment and notifies operators of light output, light input and error status. Serial connection cables can be used to connect up to 4 safety light curtain pairs (up to 192 beam axes) using only a single set of wiring. Light interference cables are also available to eliminate beam interference where multiple SL-C sensors are installed in rows or where beams intersect.

Keyence Corporation of America, 50 Tice Boulevard, Woodcliff Lake, NJ 07677-7681 Phone: 888 KEY-ENCE (888-539-3623); Fax: (201)-930-1883 Web: www.keyence.com - E-mail: keyence@keyence.com

More from Communication Systems & Equipment