Safety Laser Scanner safeguards irregularly-shaped areas.
Press Release Summary: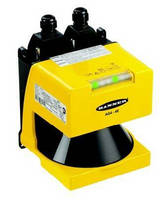 Using pulses of Class 1 IR laser light to locate position of objects in field of view, Model AG4 protects personnel by safeguarding stationary and mobile hazards within user-designated area. Featuring configurable response time from 80-640 msec and 0.36° lateral resolution, unit detects objects in zone up to 190° from its fixed position. Scanner provides selectable protection field resolution of 30, 40, 50, 70, and 150 mm with ranges up to 6.25 m, and warning field provides coverage up to 15 m.
---
Original Press Release:

Banner AG4 Safety Laser Scanner Safeguards Irregularly-Shaped Areas in Stationary and Mobile Applications



AG4 Safety Laser Scanner

Minneapolis, MN - Banner Engineering Corp. introduces the AG4 Safety Laser Scanner, designed to deliver safety, simplicity and versatility in a single, compact optical device. The AG4 Safety Laser Scanner uses pulses of Class 1 infrared laser light to locate the position of objects in its field of view, effectively protecting personnel by safeguarding both stationary and mobile hazards within a user-designated area.

Simple installation and intuitive configuration software make the AG4 a dependable, yet easy-to-apply solution. The AG4 effectively safeguards irregularly-shaped areas not suitable for a standard two-or three-piece safety light screen. It is also an excellent replacement solution for high-maintenance safety mats that are routinely damaged by repetitive operation or adverse environments. By meeting all requirements for Type 3 per IEC 61496-1/-2, Category 3 PLd per EN ISO 13849-1, and Safety Integrity Level (SIL) 2 per IEC 61508, the AG4 delivers superior performance in applications including area guarding, access/perimeter guarding, and automated guided vehicle (AGV) collision avoidance.

"We saw a need for a solution that could be used as a stand-alone safeguard that would stop hazards when an individual enters an area, as well as to prevent the reinitiating of a machine cycle while that individual is within the guarded area," said Mike Carlson, Safety Products Marketing Manager at Banner Engineering. "The AG4 will provide a solution in any number of stationary applications, but also is an excellent solution for collision avoidance on mobile vehicles such as AGVs, overhead cranes, and transfer carts and trolleys," Carlson added.

The AG4 Safety Laser Scanner operates through the principle of diffuse reflectance (reflected light) to determine an object's position via range (measured distance) and rotational angle. Once the AG4 protective and warning fields are configured, the position of the objects within the field of view are evaluated. If any are within a protective field, a safety stop signal is generated from the scanner. The AG4 can additionally be configured so that an intrusion in the warning field triggers an auxiliary output. This may be used to slow a mobile vehicle, flash a light, or initiate other actions to warn an individual who enters this field.

Featuring a 0.36 degree lateral resolution, the AG4 reliably detects objects in a zone up to 190 degrees from its fixed position. The AG4 provides selectable protection field resolution of 30, 40, 50, 70, and 150 mm with ranges up to 6.25 meters, while its warning field provides coverage of up to 15 meters. Advanced configuration capabilities allow operators to configure the AG4 with eight individual protective and warning fields. Users can quickly switch between configured field pairs, providing the flexibility to effectively protect personnel and equipment in diverse applications.

Key features of the AG4 Safety Laser Scanner include:

o Highly flexible protective and warning fields can be set to match the shape of the work area, providing dependable, responsive detection of any intrusion
o Simple installation and easy-to-use software

o Five LED diagnostic display presents system status and diagnostics of devices without connecting to a PC

o Eight individual protective and warning field pairs can be configured

o Configurable response time from 80 to 640 milliseconds

o RS-232 and RS-422 PC interface connection; USB adaptor available

o System meets all requirements for Type 3 per IEC 61496-1/-2, Category 3 PLd per EN ISO 13849-1, and Safety Integrity Level (SIL) 2 per IEC 61508

o Two solid-state OSSD safety outputs (250 mA) and two solid-state auxiliary outputs (100 mA)

About Banner. Banner Engineering is the world's leading manufacturer of electronic machine guarding systems, photoelectric and ultrasonic sensors, vision sensors, indicator lights, wireless networks, fiber optic assemblies and precision measurement systems.

For further information, contact Banner Engineering Corp., 9714 Tenth Avenue North, Minneapolis, MN 55441. PH: 888.373.6767 (Toll-free North America), or 001.763.544.3164 (International). FAX: 763.544.3213. Email: sensors@bannerengineering.com. E-commerce: bannerengineering.com/buyonline; Web: www.bannerengineering.com.

More from Packaging Products & Equipment