Safety Glasses made with Harley-Davidson® license.
Press Release Summary: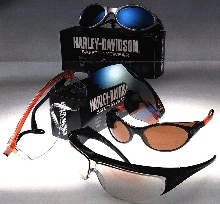 Harley-Davidson® brand protective eyewear is available in five models, including Limited Edition HD 100 with aerodynamic design reminiscent of popular sports glasses and HD 100 contemporary, wrap-around sport styling with molded in sideshields and brow guards. Other models include HD 200 Classic style with lightweight unilens, panoramic vision, and adjustable temple length; HD 300 sporty wrap-around unilens with classic black frame; and HD 400 with wrap-around lens.
---
Original Press Release:

Bacou-Dalloz Introduces Harley-Davidson® Safety Eyewear


Company Signs an Exclusive Agreement with Viva International, Official Harley-Davidson® Licensee

Smithfield, R.I., June 1, 2002-Bacou-Dalloz, the world's leading manufacturer of personal protective equipment--and parent company of Uvex Safety--has signed an exclusive agreement with Viva International, an official licensee of the Harley-Davidson Motor Company, to produce safety eyewear under the
Harley-Davidson® brand.

According to Anne Chambers, Bacou-Dalloz brand manager for eye protection, the legendary Harley-Davidson brand ideally characterizes this collection of contemporary safety eyewear and its exceptional quality, cutting-edge style, and powerful performance.

"Our Harley-Davidson® Safety Eyewear models are precisely what safety directors have been asking for: protective eyewear that workers will stand in line to wear," said Chambers. "That's because Harley-Davidson isn't just a brand. It's a symbol of Americana, of freedom, adventure, and individuality. All proven to generate the kind of interest and enthusiasm that translate into increased compliance and--ultimately-bottom--line cost savings."

At the forefront of the new Harley-Davidson® Safety Eyewear collection is the Limited Edition HD 100 Series, an aerodynamic design reminiscent of popular sports glasses. The sleek, wrap-around frame comes in a bright, metallic silver finish and features a blue mirror lens engraved with the Harley-Davidson name. The Harley-Davidson brand name and famous Bar and Shield logo are also prominently featured on the front, making the Limited Edition a "must wear" among a broad spectrum of workers.

Four additional models round out the Harley-Davidson® Safety Eyewear collection, offering styles suited for workers of all ages, as well as a broad range of work applications. All feature black frames--many with orange accents on the temples. To further highlight the cutting-edge branding, the Harley-Davidson name is engraved on the lenses and sides of the temples.

"Harley-Davidson® Safety Eyewear is about style and image, as well as comfort and protection--all designed to drive compliance," said Chambers.

The four Harley-Davidson® Safety Eyewear models offer a variety of lens tints--including clear, gray, indoor/outdoor, and gold mirror. All models meet or exceed ANSI Z87.1 industry performance standards.

- HD 100 Series: Contemporary, wrap-around sport styling with
molded in sideshields and brow guards for superior protection
and field of vision.
- HD 200 Series: Classic style, lightweight unilens offers
panoramic vision and adjustable temple length.
- HD 300 Series: Sporty wrap-around unilens with classic black
frame and adjustable lens inclination and temple length.
- HD 400 Series: High-tech, high-style protective eyewear.
Wrap-around lens provides 180 degrees clear field of vision as
well as excellent side and brow protection.

Harley-Davidson® Safety Eyewear will be available June 1, 2002. It will be sold only through authorized Bacou-Dalloz industrial distributors or wholesalers. Harley-Davidson® Safety Eyewear is designed for industrial use only. For more information, call 1-800-343-3411.

Bacou-Dalloz is the world leader in the design, manufacture and sale of personal protective equipment, supporting a wide range of industries including industrial manufacturing, construction, telecommunications, and health care. The company provides unmatched head-to-toe protection through three core businesses: protection of the head (respirators, earplugs and safety glasses), fall protection (harnesses, connectors and lifelines), and body protection (gloves, apparel and shoes). Bacou-Dalloz has approximately 6,500 employees and operates 53 facilities worldwide. Sales in 2001 were EUR 927.6m ($825.7 million U.S.).

Harley-Davidson Motor Company, the only major U.S.-based motorcycle manufacturer, produces heavyweight motorcycles and offers a complete line of motorcycle parts, accessories, apparel, and general merchandise. Buell Motorcycle Company produces sport and sport-touring motorcycles. Harley-Davidson Financial Services, Inc. provides wholesale and retail financing, insurance and credit card programs to Harley-Davidson dealers and customers.

# # #

MEDIA RELATIONS: Anne CHAMBERS -Tel.: +1 401 233 0333 - e-mail: achambers@bacou-dalloz.com
Andrew BEAUDOIN -Tel.: +1 401 233 0333 - e-mail: abeaudoin@bacou-dalloz.com

www.bacou-dalloz.com
Bacou Dalloz

uvex

PRESS RELEASE

Harley-Davidson(R) Safety Eyewear
New Harley-Davidson(R) Safety Eyewear-from Bacou-Dalloz, the world's leading manufacturer of personal protective equipment and parent company of Uvex Safety-offers exceptional quality, cutting-edge style, and powerful performance. There are five Harley-Davidson(R) Safety Eyewear models suited for workers of all ages and most work applications (clockwise from top): Limited Edition HD model 100, HD 300 Series, HD 100 Series, HD 400 Series, and HD 200 Series. Harley-Davidson Safety Eyewear will be available June 1, 2002. For more information, call +1 800 343 3411.

For a high-resolution image file of this photo, artwork for the Bacou-Dalloz and Uvex logos or a pdf file of this release, please go to shirkcom.com/bacou-dalloz.

MEDIA RELATIONS: Anne CHAMBERS -Tel.: +1 401 233 0333 - e-mail: achambers@bacou-dalloz.com
Andrew BEAUDOIN -Tel.: +1 401 233 0333 - e-mail: abeaudoin@bacou-dalloz.com

www.bacou-dalloz.com
Bacou-Dalloz


More from Agricultural & Farming Products