Safety Edges are offered in optical and pressure versions.
Press Release Summary: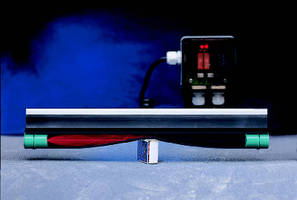 Mounted on edges of large moving objects, VITECTOR Safety Edges provide warning signal when object comes into contact with person or other object. Signal prompts control system driving equipment to stop or reverse movement before injury or damage occurs. Utilizing IR light source mounted at one end of hollow rubber tube and sensor at other end, optical version can distinguish between insignificant events and potentially dangerous collisions. Second version uses pressure switch to send warning.
---
Original Press Release:

Vitector Safety Edges Protect People and Equipment in a Busy World



Hamilton, New Jersey, June 2009: The VITECTOR unit of FRABA Inc. announces the availability of two versions of their innovative 'safety edges'. Safety edges are devices that are mounted on the edges of large moving objects - such as doors - to provide a warning signal when the object comes into contact with a person or other object in its path. This signal prompts the control system driving the equipment to stop or reverse movement before injury or damage occurs.

The first version of the VITECTOR safety edge is based on an optical system. A hollow rubber tube is mounted on edge of the moving object with an infrared light source mounted at one end and a sensor at the other. If the tube is deformed because of contact between the moving edge and another object, the light path is partially blocked and the optical sensor sends a warning to the control system. Because of internal reflection of light inside the tube, gradual bending of the edge (e.g. due to wind pressure on a large door) won't trigger the alarm. In this way, the system is able to distinguish between insignificant events and potentially dangerous collisions.

The second technology used by VITECTOR relies on air pressure. Here, the hollow rubber profile mounted on the edge of the moving object is sealed and connected to a sensitive pressure switch. When the edge contacts another object, the switch is activated and sends a warning to the control system.

The optical safety edge is designed for critical safety applications. A malfunction anywhere in the system will cause a warning signal to be sent to the control system. The pneumatic system lacks this fail-safe feature, but is less expensive and suitable for non-critical installations.

VITECTOR safety edges can reduce risks associated with the movement of large, heavy objects and help designers and operators meet the most demanding safety standards.

About FRABA

FRABA Inc. is the North American sister company of VITECTOR GmbH, a highly specialized manufacturer of safety devices based in Cologne, Germany. The company belongs to the FRABA Group which dates back to 1918, when its predecessor, Franz Baumgartner elektrische Apparate GmbH, was established to manufacture relays. Today, the group consists of six independent companies that develop and produce advanced industrial sensor technology and safety equipment.

Further Information

Michael Bowne

FRABA Inc.

1800 East State Street, Suite 148

Hamilton, NJ 08609, USA

Phone: 609-750-8705

Fax: 609-750-8703

bowne@fraba.com

www.vitector.com

More from Machinery & Machining Tools