Safety Controllers are suited for automation, machine control.
Press Release Summary: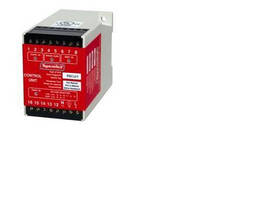 Comprised of AC and DC versions, PSCU series can be used as safety devices for low-risk automation and machine control applications. CE-Certified safety interface modules have one form C output relay (NO, common, NC) and are offered in versions that support 11-pin plug-in or DIN rail mounting. Output changes state when connected sensor device is actuated and can be configured by user to remain in this state (latched with manual reset) or automatically reset once sensor is cleared.
---
Original Press Release:

PSCU Safety Controllers (Safety Interface Modules)



The Tapeswitch PSCU series of safety controllers can be used as safety devices for low-risk automation and machine control applications. These CE Certified safety interface modules have a single form C output relay (normally open, common, normally closed). This output changes state when the connected sensor device is actuated and can be configured to remain in this state (latched with manual reset) or to automatically reset once the sensor is cleared. The PSCU safety controller can be configured as a manual reset or auto-reset by the user.

These safety controllers are designed to be used with Tapeswitch low-voltage sensors such as ribbon switches, safety mats, sensing edges, or sensing bumpers. PSCU safety interface modules may be ordered with 11-pin plug-in mounting (with or without a mounting base) or configured for DIN rail mounting.

DIN Rail Mounted PSCU/1, PSCU/4 11-Pin Plug-In PSCU/2
Features & Benefits


Suitable for low-risk automation and machine control

Available in AC and DC versions

Choice of 11-pin plug-in or DIN rail mounting

Automatic or manual reset configurable by user

LED indicators show power and output status

Technical Specifications for PSCU Safety Controllers

MODEL      PSCU/1     PSCU/2    PSCU/4

Supply Voltage    110/240 VAC 50/60 Hz  24 VDC    24 VDC

Mounting     DIN Rail Mounting   11-Pin Plug-In  DIN Rail Mounting

Reset Mode       Selectable Automatic or Manual (Remote)

Output Relay       1 Form C, N/O or N/C, Non-Safety Relay

Output Contact Rating     4 A @ 240 V, Resistive, Non-Inductive

Applications        Control or Low-Risk Safety

Safety Standard     Level 0: DIN 31006-2, Category 1: prEn 954-1