Polyvinyl Chloride (PVC) Products
Safety Components Wins IBEX Innovation Award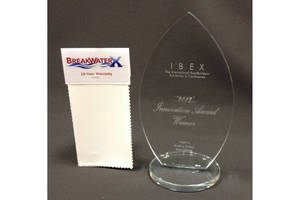 Committed to bringing the best materials and high quality fabrics to the marine industry, Safety Components Fabric Technologies recently won an Innovation Award for its revolutionary Breakwater X in the Boatbuilding Methods Materials category. The awards were presented at the 2013 International BoatBuilders Exhibition & Conference (IBEX).



Organized by the National Marine Manufacturers Association (NMMA), the IBEX Innovation Awards are judged by a panel of experienced technical boating journalists and editors from Boating Writers International (BWI). IBEX organizers created the Innovation Awards to recognize significant contributions to marine product technology.



"A marine exterior fabric with a 10-year warranty, made from an advanced polymer alloy and built to withstand the harshest environment is unheard of," said judge Nigel Calder.



Breakwater X is a PVC alloy fabric with a 10-year warranty for permanent tops and enclosures. Traditional PVC fabrics rely on plasticizers to make the PVC soft and flexible. The problem with these fabrics is the plasticizers migrate to the surface and are lost through evaporation or extraction, resulting in ever-stiffer PVC that is prone to cracking and flaking. Breakwater X's PVC alloy does not rely on plasticizers and therefore maintains a soft hand regardless of age or exposure.



Contact WeatherMax by Safety Components, 40 Emery St., Greenville, SC 29605. 864-240-2712; Fax: 864-240-5947. www.weathermax.net.

More from Electrical Equipment & Systems