Safety Analyzers simultaneously test hipot and ground bond.
Press Release Summary: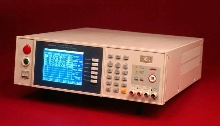 Featuring Twin-Port(TM) technology, Guardian 6000 Plus Series performs 5 major electrical safety tests, including AC Hipot, DC Hipot, Insulation Resistance, Ground Bond, and Open/Short. Guardian 6100 Plus also performs Leakage Current and Functional Run Tests. Results are indicated on front panel LCD display during test and overall go/no-go indication is provided. CaptivATE software creates global database to archive data and print test reports on demand.
---
Original Press Release:

Introducing The NEW Guardian 6000 Plus Series Safety Analyzers With Revolutionary Twin-Port(TM) Technology


Industry's First Simultaneous Hipot and Ground Bond

Maynard, MA - QuadTech, Inc., a leading electronic test equipment manufacturer in the passive component and electrical safety testing marketplace, proudly introduces two new Safety Analyzers, the Guardian 6000 Plus & Guardian 6100 Plus. The 6000 Plus Series instruments, capable of performing 5 major electrical safety tests (AC Hipot, DC Hipot, Insulation Resistance, Ground Bond, Open/Short), are now the industry's first with revolutionary Twin-Port TM technology for simultaneous hipot and ground bond testing. By performing Ground Bond and Hipot at the same time, dramatic time savings can be achieved and product throughput increased. The Guardian 6100 Plus also performs Leakage Current and Functional Run Tests - 6 Tests 1 instrument - smaller bottom line.

Fully automate the production line with CaptivATE Software for the Guardian 6000 Plus Series and create a global database to archive data and print test reports on demand. Filter and plot test data to analyze historical trends. Achieve paperless testing and create electronic signatures for compliance with Regulatory Agencies.

Some of the outstanding features which make the Guardian 6000 Plus ideal for full-service Electrical Safety Testing:
o AC Hipot to 5000V; DC Hipot to 6000V
o Insulation Resistance to 1000VDC and 50GW
o Ground Bond to 30A (40A with optional transformer)
o Leakage Current & Functional Run Tests
o Open/Short Circuit (OSC) Detection Mode
o Programmable Trip Current; Ramp & Test Times
o Storage & Recall of 100 Setups, 50 Steps each
o RS-232 and Remote I/O Interfaces, Standard
o IEEE-488 and Printer Interfaces, Optional
o Built-in 8-Channel Scanner, Optional

The Earth, Enclosure, and Patient Leakage Tests, performed by the Guardian 6100 Plus are measured with a simulated impedance of the human body, 5 different models as specified by the various product standards. The Leakage Current mode has a 20A input current capability and multiple display mode (Voltage, Current, VA). Likewise, tests performed under normal conditions, reverse power line or fault conditions, open ground and open neutral are implemented automatically by the 6100 Plus, without operator intervention.

To accommodate automated production lines, test sequences on both models can be programmed to "Pause", "Continue on Fail" or "Fail Retest". Test results are clearly indicated on the large front panel LCD display during test and an overall go/nogo indication is provided based on programmed limits. The 6000 Plus also offers password protected front panel lockout to prevent an operator from inadvertently altering test conditions.

To support a variety of measurement applications, QuadTech also offers a wide selection of accessories for the 6000 Plus, including test leads, adapters for connecting to 115V/220V corded products, printer interface, line isolation transformers and automation software.

The price for the Guardian 6000 Plus is $7,500 (6100 Plus $9,895) and both include test leads, adapter for connecting to 115V corded products and a NIST traceable calibration certificate. The Guardian 6000 Plus Series is TUV & UL approved and carries the CE Mark for wider acceptance in the global marketplace.

For more information on the 6000 Plus Electrical Safety Analyzer, please call (800) 253-1230; fax: (978) 461-4295 or visit www.quadtech.com/6000Plus for full product specifications.

About QuadTech:
QuadTech, an ISO 9001 Certified company, offers a complete line of instrumentation, LCR meters for testing passive components, Hipot testers and ground bond testers, safety analyzers, megohmmeters and milliohmmeters, cabletesters, as well as calibration and repair services. Based in Maynard, MA, QuadTech has a worldwide network of direct sales and distributors who service and support customers around the globe. In the United States, all of QuadTech's products carry a 45-day money back guarantee. In addition, QuadTech provides new product rental and lease plans.