Safe Medical Applications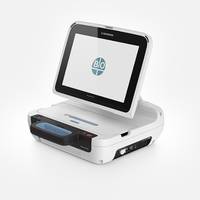 Santa Rosa, California, November 29th, 2022 – For over fifty years, BIOTRONIK has been developing medical devices that improve the quality of life of patient's suffering from cardiovascular and endovascular diseases. One of the company's products is the Renamic Neo, a control unit that communicates with a medical device implanted in a patient, such as a pacemaker. The control unit allows the physician or patient to read information such as battery status, heart rate, and other parameters necessary for the functioning of the implanted device.
By using SCHURTER components with low electromagnetic radiation, the Renamic Neo is the world's first device to read and program the implant completely wireless. Communication between the Renamic Neo and the implanted device is wireless via a low-power radio signal, and there must be no interference in the frequency range of this signal. When developing the application, EMC was therefore an important issue from the start.
BIOTRONIK required that their products met the medical EMC standard EN 60601-1-2 and supplied SCHURTER with the equipment to test accordingly. There is now a shielded cabinet, where no radiation can penetrate from the outside. The product is placed in the cabinet, connected with cabling, and switched on. An antenna in the cabinet captures any signals around the frequency in question, and these go through a coax cable to a spectrum analyzer outside the cabinet, which measures the signals. An algorithm determines an average value for these signals, which must lie between 3 and 20 dB."
About SCHURTER Inc
The SCHURTER Group is the world's leading Swiss technology company providing components and complex solutions that ensure safe power supply and simplified equipment operation. The company's professional competence, financial independence, innovative strength, and distinctive corporate culture, propel the SCHURTER Group, together with its customers and partners, into the digital future. The safe&easy brand claim not only refers to the products, but also the company's business philosophy, which strives for sustainable success through innovation, high-quality products and service, flexibility, and proximity to customers.
SCHURTER is known globally as an innovator, manufacturer and distributor of fuses, connectors, circuit breakers, switches, EMC products, and input systems. Touch screens and touch panels, capacitive sensor keypads, membrane keypads and housing systems are developed in close cooperation with its customers. Within its business unit Solutions, SCHURTER combines all competencies and puts them at the customer's disposal. SCHURTER products and solutions are developed especially for specific industry segments – medical, data and communication, automotive, avionics & space, energy, and the broader industrial market. SCHURTER considers the quality of its products and services as the key factor to the company's lasting success. Its management and improvement processes are designed and certified according to ISO 9001, ISO 13485, ISO 14001, ISO 45001 and IATF 16949, using the EFQM and Baldrige Excellence Models, as well as the application of Lean Management principles such as Value Stream Planning, Power Innovation, SSO, and Six Sigma.
SCHURTER Inc., Santa Rosa, California is the exclusive North America sales and distribution office for the SCHURTER Group
More from Electrical Equipment & Systems