Safe Dual-Mode LED Tube meets UL OOLV and IFAR standards.
Press Release Summary: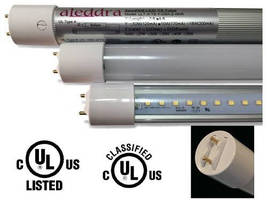 In addition to meeting UL IFAR safety standards for troffer retrofit applications (UL E325073) fifth generation G5 SureFit DBA LED tube meets UL OOLV (Type A/Type B) safety standards (UL 479597) for direct-fit operation with ballast and direct-wire operation on line voltage. Product consumes 15 W and operates on most Instant Start and Rapid Start ballasts. Along with 180° beam angle, features include safety switch on endcaps. Design facilitates driver replacement.
---
Original Press Release:
Aleddra Introduces G5 SureFit DBA LED Tube
The Safest Dual-Mode LED Tube on the Market

RENTON, Wash. – Aleddra, the leader in LED tube technology, announces the availability of its fifth generation G5 SureFit DBA LED tube. It is the first dual-mode LED tube lamp that meets UL OOLV (Type A/Type B) safety standards (UL #479597) for direct-fit operation with a ballast and direct-wire operation on line voltage. The lamp also meets UL IFAR safety standards for troffer retrofit applications (UL #E325073).

According to Dr. John Hsia, VP Engineering of Aleddra, "There are a number of dual-mode LED tubes categorized as UL OOLV (Type A/Type B) on the market. Although they can be operated with ballast and line voltage, most people don't realize that UL OOLV only certifies these lamps for direct replacement without fixture modification.  They do not meet the UL IFAR safety standards for fixture retrofit on line voltage, because they have an electric shock hazard.  This hidden liability is not acceptable to us and could be very costly to end users.  We believe that the Aleddra G5 LED tube is the first and only dual-mode LED tube to satisfy both UL OOLV and IFAR safety standards.  We take great pride in designing our products with our customers' safety in mind."

Moreover, Aleddra G5 tube has made these improvements over the previous generation tubes:
--  Better energy efficiency by reducing consumption from 18W to 15W
--  Operates on most Instant Start and Rapid Start ballasts
--  Wider beam angle at 180 degrees
--  Lighter weight
--  New and better safety switch design on endcaps
--  More user-friendly driver replacement design

Demo video: https://youtu.be/FA8EBOQYx5o

Maintenance personnel can now easily insert a G5 SureFit tube in a fixture just like they would do for an ordinary T8 fluorescent.  When the ballast fails, electricians can come in (at a convenient time) and remove the ballast and rewire the sockets for more energy savings.  This process incurs no additional retrofit labor costs versus regular T8 maintenance, making the G5 tube the most cost-effective choice for T8/T12 upgrade.  Matthew Maa, VP Sales & Marketing of Aleddra, states "Aleddra SureFit DBA LED tube has been very popular with schools, universities, and government entities because it meets the top three criteria for their energy efficient lighting upgrades: safety, ease of installation, and zero additional maintenance cost.  We believe more organizations can take the advantages of our G5 SureFit tube for their lighting needs."

Visit Aleddra at LightFair booth #3856 in San Diego, April 26-28, for a live demo of the G5 SureFit LED tube.

We will also be exhibiting the G5 at the PRSM 2016 National Conference in Long Beach April 25-27.

For more information on the SureFit DBA+ tube, please email info@aleddra.com or call us at 425-430-4555.

Media contact:
Matthew Maa
425-430-4555
More from Architectural & Civil Engineering Products