Electrical Sensors / Detectors / Transducers
Saelig Weighs in with Smart Load Sensor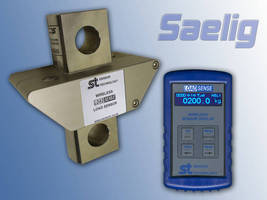 Pittsford, NY: Saelig Company, Inc. (Saelig) (www.saelig.com) announces LoadSense - an intelligent load sensor that can be integrated with a crane hook, fork lift or other handling device for intelligent feedback of loading events. It has an on-board single-chip computer for recording, analyzing and archiving readings, and wireless communications to transfer data in real time to a host computer. LoadSense provides the real-time information needed to optimize efficiency and increase profitability in a wide range of industrial operations, allowing weight measurement processes to be easily integrated with handling operations. All live data is captured in real time and can be transferred to a database, stored, totaled and analyzed on-the-spot.

Internal battery-power makes LoadSense's operation completely autonomous, so it can be deployed with minimal disruption to operations - and with no trailing, dangerous wires. LoadSense automatically begins transmitting data when used, and no special training is required to install or operate the unit.

The LoadSense system consists of an intelligent load sensor, a hand-held display and a receiver. The load sensor, with a standard calibration range 1-10 tonnes, is based on proven strain gauge technology (other ranges available on request). The transmitter operates on globally-accepted 2.4GHz - it does not require a license to operate - and uses advanced data-secure technologies to enable information to be sent and received error free. Accurate load data is thus sent to the handheld display, providing instant and accurate load measurement information. The load cell also provides data logging and storage capabilities for subsequent downloading into a PC. Alternatively the load cell can communicate directly to a PC via the handheld receiver interface.

Applications include: materials handling and warehouse operations, where the intelligence will convert raw data into instant stock counts; raising nuclear fuels rods; monitoring window cleaning cradles on high rise buildings; and winching and weighing building materials; assessing helicopter loads, etc. How much material has been transported? How to weigh and dispense two or more materials simultaneously which need to be accounted individually? All these problems and more can be solved with LoadSense.

Using LoadSense with a tractor-mounted winch enables an accurate assessment of roadside trees for susceptibility to catastrophic wind damage. LoadSense can be configured to monitor and control flow of liquids too. It can be wirelessly integrated into a SCADA or manufacturing control system, enabling instant operating reports and even customer billing. Operating safety is also improved by removing operators from dangerous locations.

LoadSense is made by Sensor Technology, one of Europe's premier torque transducer suppliers, and is available from their USA distributor Saelig Co. Inc. Pittsford NY starting at under $3,000. For detailed specifications, free technical assistance, or additional information, please contact 1-888-7SAELIG, via email: info@saelig.com, or visit www.saelig.com or www.sensors.co.uk

About Saelig Company, Inc. Founded in 1988 in Rochester, New York, Saelig is a North American distributor with a growing reputation for finding and sourcing unique, easy-to-use control and instrumentation products and related active components, for use in a variety of industries, including: automation, automotive, aerospace & defense, computers, controls, embedded systems, medical & pharmaceutical manufacturing, motion control, R&D, wireless, etc. Products lines are continuously added from sources across the globe, and are offered at highly competitive prices, accompanied by full in-house technical support, exceptional customer service, and fast delivery. For full details of available product lines, please visit www.saelig.com.

More from Controls & Controllers