Electrical / Electronic Probes
Saelig's New Teledyne LeCroy Differential Probes Feature AutoZero Capability
Press Release Summary: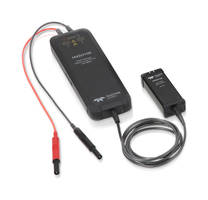 Teledyne LeCroy HVD3000A Series Differential Probes are offered in 1 kV, 2 kV, 6 kV CAT safety rated models and designed for power-electronics applications with up to 1500 V differential voltage and 1% of gain accuracy. The probes come with AutoZero functionality which keeps data precision by calibrating small offset drifts out of measurements. Units come with ProBus interface and automatic selection of attenuation depending on the oscilloscope gain range setting.
---
Original Press Release:
Saelig Introduces Teledyne LeCroy HVD3000A Series 1-6kV High-Voltage Differential Probes
The HVD3000A series advances the HVD3000 series and covers a broad range of application from 120/240 V switch-mode power supplies through 600V class and 5kV class electrical apparatus
Fairport, NY: Saelig Company, Inc. announces the availability of the Teledyne LeCroy HVD3000A High-voltage Differential Probes the 1kV HVD310xA, the 2kV HVD3206A, and the 6kV HVD3605A. These probes provide excellent CMRR over a broad frequency range to simplify the measurement challenges found in noisy, high common-mode power electronics environments. The probe's design makes it easy and safe to make precise high voltage floating measurements. Serving a wide range of power-electronics applications, they provide 1% gain accuracy, a differential-voltage range of up to 1500 V (DC + peak AC), and high offset ranges.
The HVD3000A probes can perform an AutoZero functionality without having to first remove the probes from the device under test, ensuring consistent and efficient high-voltage testing. The AutoZero capability ensures data precision by allowing small offset drifts to be calibrated out of the measurements. Additionally, the HVD3000A probes automatically detect overloads of both differential- and common-mode inputs, displaying the overload condition on the oscilloscope's screen.
Designed to work with Teledyne LeCroy's oscilloscope range, all HVD3000A series probes connect via the ProBus interface, which brings power and communications, eliminating the need for a separate power supply or batteries. Attenuation is automatically selected based on the oscilloscope gain range (V/div) setting.
The CMRR for the probes is exceptional even to very high frequencies, greatly improving measurement capability in the noisy, high common-mode environments found in power electronics. The high CMRR combined with low probe noise and high offset capability provides superior measurement capabilities compared to other HV differential probes.
The HVD3000A series covers a broad range of applications, from 120/240 V switch-mode power supplies through 600 V class and 5 kV class electrical apparatus, each model has the best available gain accuracy, widest differential and offset voltage range, and superior CMRR. High-power DC-DC converters can operate at substantial voltages, 500 Vdc or higher. The HVD310xA models provide up to 1000 Vdc common-mode (HVD3206A models provide up to 1500 Vdc) and high precision (1% gain accuracy) DC voltage measurements. Automatic switchable attenuation keeps the probe in the optimum measurement range. Multiple probes can be used to understand complex device switching performance. The HVD3206A model is the world's only safety-rated 2000-V (DC + peak AC) and 1500-VDC CAT III probe meeting solar photovoltaic measurements per the IEC/EN 61010- 031:2015 standard. 
Key Features:
1 kV, 2 kV, 6 kV CAT safety rated models
Widest differential voltage ranges available
Exceptional common-mode rejection ratio (CMRR) across a broad frequency range
1% gain accuracy
High offset capability at both high and low attenuation
AC and DC coupling
ProBus active probe interface with automatic scaling
AutoZero with auto disconnect switch
Wide oscilloscope compatibility>
The HVD3000A High-voltage Differential Probes start at $1,535 from Teledyne LeCroy's authorized North American distributor Saelig Company, Inc. Fairport, NY. For detailed specifications or additional information, please contact Saelig at 888-7SAELIG, via email: info@saelig.com, or by visiting http://www.saelig.com/category/teledyne-lecroy-high-voltage-differential-probes.htm.
About Saelig Company Inc.
Founded in 1988 in Rochester, New York, Saelig is a North American distributor with a growing reputation for finding and sourcing remarkable, unique test and measurement and control products and components for use in a wide variety of industries. Products lines are continuously added from sources across the globe, and are offered at competitive prices, accompanied by full in-house technical support, exceptional customer service, and fast delivery. For full details of available product lines, please visit www.saelig.com. 
More from Architectural & Civil Engineering Products