Saelig Introduces Industry Exclusive CANatomBOX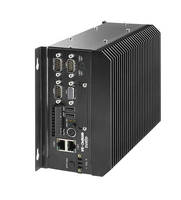 Pittsford, NY, USA - Saelig Company, Inc. (Saelig) (www.saelig.com) has announced the September launch of CANatomBOX(TM), a versatile, compact embedded controller targeted for Windows-based embedded CANbus control applications.

Based on Intel®'s 945GME 1.6GHz Atom(TM) processor, this controller box is constructed using high-reliability components, and is application-customizable, with a variety of hardware and software options. With 512MB SD-RAM and 2GB in CompactFlash, this system boots quickly, has passive cooling, with no moving parts The DIN-rail mounted units can be placed almost anywhere, due to their small footprint: (3.7" x 6.3" x 9.0" for standard version; 5.7" X 6.3" X 9.0" for 2-PCI-slot version).

Intel's Atom processor's new microarchitecture was developed specifically for enhanced performance and low power. Atom processors feature multiple threads for better performance and increased system responsiveness. They offer increased energy efficiency in more compact designs, extending battery life with low idle and average power. Standard interface connections for CANatomBOX are provided on the front panel, and Windows Vista/XP/CE, Linux (or other choices such as QNX or VxWorks) can be preinstalled with other application software. CoDeSys SoftPLC runtime environment is also supported.

CANatomBOX features front-panel availability for two independent 10/100MBit/s Ethernet ports, status LED's, an RS232 serial port, two opto-isolated CAN ports, two USB2.0 ports, I/O lines, etc. Units are 10-28VDC powered, making them ideal for battery-powered operation. CANatomBOX is designed to operate within an ambient temperature range of 0 to +50°C (+32°F to +120°F). All inputs feature ESD protection of 2kV. Fanless operation provides fit-and-forget, maintenance-free operation. Each CANatomBOX system is 100% tested and customizable with additional I/O or CANbus ports, with free design-team hardware and software support. CANatomBOX's guaranteed minimal five-year lifetime is essential when designing-in controllers for medical or military and aerospace equipment.

Made in Europe by Janz AG, a leading industrial control and CANbus manufacturer, CANatomBOX will be available September 2009 from their USA distributor Saelig, with units starting at $1399.00 USD. For detailed specifications, free technical assistance, or additional information, please contact (toll-free in the US) 1-888-7SAELIG, via email: info@saelig.com, or visit www.saelig.com or www.janz.com.

About Saelig Company, Inc.

Founded in 1988 in Rochester, New York, Saelig is a North American distributor with a growing reputation for finding and sourcing unique, easy-to-use control and instrumentation products and related active components, for use in a variety of industries, including: automation, automotive, aerospace & defense, computers, controls, embedded systems, medical & pharmaceutical manufacturing, motion control, R&D, wireless, etc. Products lines are continuously added from sources across the globe, and are offered at highly competitive prices, accompanied by full in-house technical support, exceptional customer service, and fast delivery. For full details of available product lines, please visit www.saelig.com.

More from Materials