Saddle Stool helps minimize fatigue.
Press Release Summary: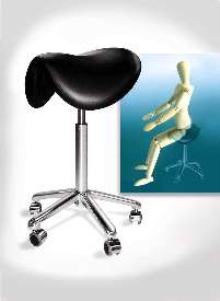 Equestrian-style Saddle Stool facilitates proper posture and is suited for personnel who reach and move around frequently at work. When sitting with legs apart and leaning at 45° angle, it creates natural S-shape alignment of spine and maintains lumbar curve, with soft normal curves in back and neck. Workers seated on Saddle Stool experience alertness, circulation to lower extremities, and minimized risk of muscular skeletal disorders.
---
Original Press Release:
Saddle Stool Improves Posture and Health

A new ergonomic, equestrian-style stool that improves posture, helps reduce fatigue, and is ideal for personnel who reach and move around frequently at their job is being introduced by Scandex, LLC. of Newton, Massachusetts.

The Scandex Saddle Stool improves posture because when sitting with legs apart and leaning at about a 45 degree angle, it creates a natural S-shape alignment of the spine and maintains the lumbar curve, with the soft normal curves in the back and neck. A healthy alternative to conventional chairs and stools, especially for people who reach and move around a lot, when leaning forward they bend comfortably from the hips and not the back.

Sitting equestrian-style with legs apart and firmly planted on the floor, workers seated on the Scandex Saddle Stool experience greater alertness, better circulation to the lower extremities, and a reduced risk of muscular skeletal disorders (MSD). This posture seating is available in adjustable seat heights and with a wide variety of leather, vinyl, and fabric options.

The Scandex Saddle Stool is priced from $498.00 depending upon configuration. Literature is available upon request.

For more information contact:

Scandex, LLC.

Sven O. Emilsson, Marketing Director

517 Commonwealth Ave.

Newton, MA 02459-1601

(888) 245-1367 FAX (617) 964-3221

e-mail: [email protected]

www.scandex.us