SABIC Helps Meccano de Mexico Break New Ground with First Concrete Forms Featuring Lightweight, High-performance LNP* Verton* Composite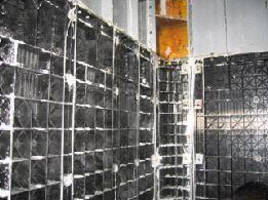 MEXICO CITY, - Here at Plastimagen Mexico 2011, Booth 2216, SABIC's Innovative Plastics business unit today announced an industry first: new one-piece, reusable concrete forms made from the company's high-performance LNP* Verton* long glass fiber-reinforced composite. The new corrosion-resistant composite forms were developed by SABIC and Meccano de Mexico, a top Mexican construction supply company, to replace heavy traditional multi-piece steel forms, reducing weight by up to 40 percent, cutting cycle times from three hours to only a few minutes and helping to reduce overall construction costs for more-affordable housing. Today's announcement is a building & construction industry milestone for both Meccano and SABIC that showcases SABIC's commitment to working side-by-side with customers to help them achieve business success.

"SABIC provided the material technology, technical expertise and local presence that allowed us to successfully develop and commercialize this breakthrough product for our customers," said Salvador Jalife Lozano, chief innovation and development officer, Meccano de Mexico. "Using LNP Verton composite, our new concrete forms can give contractors exceptional benefits including significant time savings, easier handling and durability for repeated use. These molds have the potential to change the way concrete panels are formed on the job site, helping to streamline construction and provide a competitive advantage for Meccano and its customers. This cooperation with SABIC reinforces our mission: 'Building Innovation'."

Meccano's new forms are used to mold concrete panels for houses; on average, 500 panels are required for a typical row house. The forms are available in a wide range of sizes and configurations: the average height is 1100 mm (3.7 feet), and different widths (200 mm (0.8 feet.), 300 mm (1 foot) and 600 mm (2 feet)) are available.

Building for the Future

"Replacing metal forms with our LNP Verton compound material is a major step forward in building and construction because it addresses top industry demands for better materials, greater speed, lower costs and improved ease of use," said James LeGacy, general manager, Americas, Innovative Plastics. "This cooperation with Meccano de Mexico demonstrates the multiple resources SABIC can offer our customers, from helping to identify the right material within our broad portfolio to assisting with product development on site. We are very pleased to have played a part in the success of this new application and believe it will be a true game-changer for the construction industry worldwide."

SABIC's LNP Verton structural composite, featuring long glass fiber reinforcement, can reduce system costs, cycle time and weight vs. metal, while providing exceptional mechanical performance, including the dimensional stability, strength and resistance to humidity needed for demanding concrete work. The fabrication of traditional metal forms requires assembly of as many as 30 different components and can take up to three hours. By eliminating the need for assembly with a one-piece design, Meccano's forms are ready in minutes, increasing throughput, and potentially allowing more contractors to build homes more quickly and reduce overall costs. This is particularly important for construction of government-subsidized housing or other projects where containing costs is a concern.

In addition, the light weight of LNP Verton compounds compared to metal (20 percent lighter than aluminum and 40 percent lighter than carbon steel) allows the forms to be transported and maneuvered on site more easily and without the need for specialized equipment or cranes.

For additional information on SABIC's products for the building & construction industry, please go to www.sabic-ip.com. For technical product inquiries, please contact us at www.sabic-ip.com/prtechinquiry.

For additional information on Meccano's innovative building systems, please go to www.meccano.mx. For product inquiries, please contact Meccano at sales@meccano.mx.

About Saudi Basic Industries Corporation

Saudi Basic Industries Corporation (SABIC) ranks among the world's top petrochemical companies, and is a global market leader in the production of polyethylene, polypropylene, advanced thermoplastics, glycols, methanol and fertilizers. SABIC manufactures with a global footprint in Saudi Arabia, the Americas, Europe and Asia Pacific. The company operates in more than 40 countries across the world with 33,000 employees worldwide. It has significant research resources with 18 dedicated Technology & Innovation facilities in Saudi Arabia, the USA, the Netherlands, Spain, India and China. SABIC recorded a net income of SR 21.59 billion (US$ 5.73 billion) in 2010, and sales revenues totaled SR 152 billion (US$ 40.5 billion).

About Innovative Plastics

The Innovative Plastics strategic business unit of SABIC is a leading, global supplier of engineering thermoplastics with an 80-year history of breakthrough solutions that solve its customers' most pressing challenges. Today, Innovative Plastics is a multi-billion-dollar company with operations in more than 35 countries and approximately 9,000 employees worldwide. The company continues to lead the plastics industry with customer collaboration and continued investments in new polymer technologies, global application development, process technologies, and environmentally responsible solutions that serve diverse markets such as automotive, electronics, building & construction, transportation, and healthcare. The company's extensive product portfolio includes thermoplastic resins, coatings, specialty compounds, film, and sheet. Innovative Plastics (www.sabic-ip.com) is a wholly owned subsidiary of Saudi Basic Industries Corporation (SABIC).

* Trademarks of SABIC Innovative Plastics IP B.V.


More from Fluid & Gas Flow Equipment