S15J Semi-Electric Straddle Stacker features adjustable base legs.
Press Release Summary: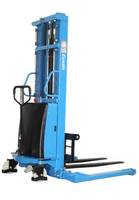 S15J Semi-Electric Straddle Stacker features overload protection. Designed with throttle valve for enabling stable and reliable lowering and mechanically assisted steering, product includes automation robotic welding. Stacker comes with polyurethane wheels, padded ergonomic handles. Embedded with 12 V/120Ah battery charger, unit's fork measures 3.9 in. width, 118 in. raised height, mast 81 in.
---
Original Press Release:
Eoslift Launches the S15J Semi-Electric Straddle Stacker
Eoslift announces the extension of our Heavy Duty Semi-Electric Straddle Stacker by introducing again another durable, high quality, user friendly Semi Powered Straddle Stacker. Model number S15J with its full features and functions to eliminate time and cost with complete efficiency to utilize for narrow aisles and the reduction of material handling expenditures.
Each and every model including our newest Semi-Electric Stacker S15J has Reinforced Automation Robotic Welding / German Seal System / 3300lbs Weight Capacity / Fork Size 45" / Polyurethane Wheels / Steel Center Hubs / Padded Ergonomic Handles / 3.9" Fork Width / Lowered Height 1.4" / Raised Height 118" / Mast 81" / Battery 12v/120Ah / Charger / Adjustable Base Legs / 3 Years Limited Warranty.
The S15J's is efficient with power saving features, overload protection, throttle valve with a pressure compensation functions to enable stable and reliable lowering, high strength C type steel, a hydraulic reservoir filter, mechanically assisted steering.
Availability & Product Info
The S15J Semi-Electric Straddle Stacker is available today for MSRP $3470. For more information, please visit Eoslift USA Corporation website www.eoslift.us, or visit one of channeled partners for more information and prices.
About EOSLIFT
Eoslift Corporation is a world-renowned manufacturer of intelligent warehousing and intra-logistics solutions services, and professional manufacturer for material handling equipment such as pallet trucks, scale trucks, walkies, stackers, and lifts. Our farsighted R&D capability is our key strength and to create products which transcend all international standards. ©2016 Eoslift USA CORPORATION. All rights reserved. Specifications are subject to change without notice. Content of delivery might differ in different areas or from illustrations. Some trademarks may be claimed as the property of others.
Contact:
Louis Rojo, Sales Manager 
Eoslift USA Corporation
1590 S. Milliken Ave. Unit H
Ontario, CA 91761
T: (888) 264-5008 Ext 105
F: 781-780-5915
Related