RWM Casters Ultimate Tag Team - 45 & 46 Series Casters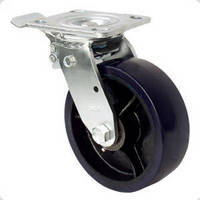 RWM Casters Company is thrilled to present the ultimate tag team supporting the backbone of the caster industry. Our 45 and 46 Series Casters serve one of the largest markets in the industrial caster sector. Whether you are looking for the value minded solution in the 45 series casters or the proven performance of the heat treated and reinforced 46 series casters, you can rest assured you're getting the best caster for the job! An assortment of options including swivel locks, optional top plates, threadguards, brake options and total lock capability ensure you the direct application specific coverage you need.



The 45 Series Casters have been completely re-designed for a more practical and economical approach to your medium duty general use caster application needs. The price has been drastically reduced while quality has been improved. Available at volume discounts and in large quantities these casters are among the most widely used caster solutions in the industry today!



RWM's 45 Series Casters come standard with bright zinc plating for extended service life and a notched raceway with demountable swivel lock options. This rig accepts all 2" wide wheels from 4" to 8" in diameter and can be used with 2 brake options.



While the 45 Series Casters have seen significant changes, the 46 Series Casters have made even more headway. It's still the rugged 'Heat Treated Can-Do Caster' you've come to rely on, however, we've completely modified the leg design to provide our largest single line up of brakes to date! Available with the WB, ICWB, WBT, FCNB, FCNTLB and FCSTLB brakes these casters can fit any situation!



In Addition to the new brake line up these casters come standard with notched raceways and are available with demountable and weld on swivel locks, various optional top plates and optional overall heights. These rigs are designed for use with any 2" tread wheels from 3.25" to 8" diameter.



Visit the 45 Series Caster webpage here: http://www.rwmcasters.com/industrial_casters/45_series_casters.cfm.



Visit the 46 Series Caster webpage here:

http://www.rwmcasters.com/industrial_casters/46_series_casters.cfm.



More from Materials