Rust Remover is non-toxic and non-hazardous.
Press Release Summary: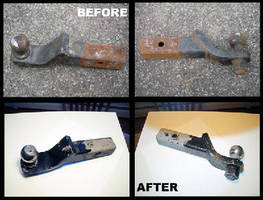 With D-Rust-It® Industrial Concentrate Rust Remover, users can dissolve iron oxides from steels and cast irons safely, without harming most plastics, rubbers, and paints. Chelant-based product does not require hazardous waste disposal and will not attack base metals such as acids, grinding wheels, wire brushes, and other destructive methods. Producing 10 gal of solution with 1 gal of concentrate, remover is suited for brake calipers, tools, industrial parts, and castings.
---
Original Press Release:

New Non-Hazardous Rust Remover Improves Rust Removal and Offers Concentrate Solution



D-Rust-It® Brand Products Beat Older Technology Rust Removers with New Technology that Increases Performance and Stability.

Enviro-Safe Services, Inc. releases D-Rust-It Industrial Concentrate Rust Remover formulated with new breakthrough technology that is non-hazardous, non-toxic and safe to use.

Due to recent down turn in the economy, non-hazardous chelant based rust removers are becoming even more practical and encourages the re-use of iron and steel parts. New technology chelant rust removers attack and dissolve iron oxides (rust) from steels and cast irons easily and safely without harming most plastics, rubbers and paints.

They do not require hazardous waste disposal and are safe for employees to use. Employees can remove their personal protective equipment, although goggles and rubber gloves are always recommended.

Chelants will not attack the base metals like acids, grinding wheels, wire brushes, sand blasting and other destructive rust removal methods. This enables rust removal on delicate or intricate parts and areas where it would be very difficult or impractical to reach that would have otherwise been destroyed..

Concentrates save money. Our powerful 1-gallon Industrial Concentrate makes up to 10-gallons of mixed solution. Our competitors only offer fully diluted solutions, in other words, they are selling you water and a small amount of chemical. Would you rather spend money on shipping 10-gallons of their solutions or 1-gallon of ours? We offer the environmentally sound concentrated product.

D-Rust-It Industrial Concentrate has 1000's of applications including; brake calipers, trailer hitches, tools, compressor tanks, industrial parts, castings, antiques, guns, old bicycles, and more.

About the company:

Company -Enviro-Safe Services, Inc.

Location - New York, USA

Person - Howard Phillips

Phone - (888) 522-1996 toll free

Web - www.d-rust-it.com and www.rustremoval.biz

More from Communication Systems & Equipment