Rust Preventative is water-based and biodegradable.
Press Release Summary: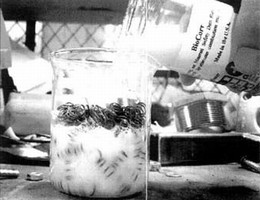 Made from soybeans, BioCorr(TM) provides up to 2 years of corrosion protection for metal products or parts during shipment and storage. Environmentally friendly product eliminates expense associated with disposal of petroleum-derived products and acts as replacement for hazardous mineral oils and flammable solvents. In addition to biostatic material that prevents mold growth, VOC-free product incorporates Vapor phase Corrosion Inhibiting (VpCI(TM)) technology to seal out air and moisture.
---
Original Press Release:

Biodegradable Rust Preventative Eliminates Toxic Disposal Costs



Cortec® Corporation (Saint Paul, MN) expands its biodegradable line of corrosion prevention products with its new BioCorr(TM) Rust Preventative. BioCorr(TM) is a water-based, biodegradable formulation that provides long-term corrosion protection for metal products or parts during shipment and storage. This ready-to-use solution can provide up to two years of indoor rust protection for steel, stainless steel, aluminum, and yellow metals. Unlike rust preventative oils. BioCorr(TM) is made from soybeans and leaves a thin dry film on the metal surface, which, though virtually undetectable, contributes to a cleaner, rust-free worksite. This biodegradable, biobased, and environmentally-friendly product eliminates the expense associated with the disposal of traditional corrosion preventative petroleum derived products. By using BioCorr(TM) Rust Preventative, businesses will not only save costs and time, but will reduce environmental pollution as well.

BioCorr(TM) is cost effective and an environmentally sound replacement to hazardous mineral oils and flammable solvents. This formulation does not contain chlorinated compounds, chromates, or nitrites. This truly green product is an excellent rust preventative and VOC free. BioCorr(TM) incorporates Cortec's proven Vapor phase Corrosion Inhibiting (VpCI(TM)) Technology that provides multi-metal corrosion protection by forming an invisible molecule layer of VpCIs on the metal surface. The VpCI(TM) layer seals out air and moisture - the true cause of corrosion. BioCorr(TM) passes both Humidity Chamber test (ASTM D 1748) and Cast Iron Chip Test (ASTM D 4627-86).

Bio growth is not a problem when using BioCorr(TM). This green rust preventative contains biostatic material that prevents mold growth. BioCorr(TM) Rust Preventative is supplied ready-to-use in 5-gallon (19 liters) pails, 55-gallon (208 liters) drums, liquid totes, bulk, and in handy 16 oz. (455 ml) spray bottles.

Company Description: Cortec® Corporation is a pioneer of environmentally friendly, corrosion protection Vapor phase Corrosion Inhibitors (VpCI(TM)) & Migratory Corrosion Inhibitors (MCI®) Technologies for the Packaging, Metalworking. Construction, Electronics, Water Treatment, Oil & Gas and other industries. Headquartered in St. Paul Minnesota, Cortec® manufactures over 400 products distributed worldwide. ISO 9001 & ISO 14001:2004 Certified.

Cortec Website: www.CortecVCI.com Phone: 1-800-426-7832 FAX: (651) 429-1122

More from Mounting & Attaching Products