Global Positioning Systems (GPS)
Ruggedized Telematics Platform survives harsh environments.
Press Release Summary: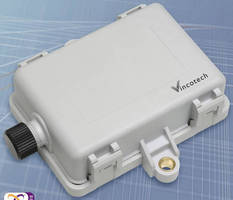 Integrating antennas into waterproof enclosure, programmable A1091 integrates SiRFstarIV GPS receiver, quad-band GSM/GPRS modem, and Cortex-M3(TM) ARM MCU. Digital and analog I/O, serial port, Dallas 1-wire®, and CAN interfaces foster connectivity, while SiRFstarIV technology can detect, attenuate, and remove jamming signals. Set in SiRFaware(TM) mode, which draws 50-400 µA, GPS maintains hot start conditions continuously and can provide accurate position within seconds.
---
Original Press Release:

Rugged Telematics Hardware Platform A1091



Vincotech announces the first telematics platform using SiRFstarIV

Munich, Germany - Vincotech, a leading supplier of GPS receiver and telematics hardware solutions, announces the first telematics platform which will feature the new SiRFstarIV technology. The new A1091 platform integrates the antennas into a rugged and waterproof enclosure for tracking applications in harsh environments. The SiRFstarIV, with its high sensitivity, SiRFaware(TM) technology, jamming detection and removal, and lowest power consumption provides an unprecedented level of performance in asset tracking.

With the ever increasing flow of goods in the global economy, and the necessity to track these assets, telematics applications and products effectively addressing this requirement are amongst the fastest growing technology product solutions developed to address this market. While the initial requirement of this market category was to address the issue of locating and managing fleets of trucks and cars, the latest trends extend this request for traceability towards mobile or movable assets. Applications in this area ask for easier installation as well as lower total cost of ownership.

Responding to these market demands, Vincotech has developed a rugged hardware platform for telematics applications, designed to function in the harshest of operating environments to address a broad spectrum of applications including trailer and asset tracking. In order to meet identified customer requirements the new A1091 integrates all antennas into a small waterproof enclosure. Together with the single-cable installation this helps in reducing the total system cost.

In a further step to decrease the operating costs the A1091 will be available in a version integrating WLAN 802.11b/g. By using WiFi as an alternative communication interface - particularly under operating conditions where a Wi-Fi network is available and when no exception such an emergency needs to be handled - the GSM airtime and total cost can be kept to a minimum.

The A1091 is the first telematics solution making use of the newly released SiRFstarIV GPS receiver technology (GSD4e). Several innovative features make this device extremely appealing for asset tracking applications. Set in SiRFaware(TM) mode, the GPS maintains hot start conditions continuously and can provide an accurate position within seconds, regardless of the power-off state of the receiver before a fix request. The SiRFaware(TM) mode also addresses the requirement for minimizing power consumption while maintaining location awareness by drawing as little as 50 to 400µA.

Position data will be available and continuously updated under even the harshest environmental conditions. With -160dBm navigation sensitivity and -163dBm tracking sensitivity the GPS creates an unprecedented performance enhancement in the user experience.

The new GSD4e chip technology has the capability of detecting, attenuating and even removing jamming signals completely, alleviating the issue of having multiple radios functioning effectively alongside the SiRFstarIV GPS receiver in a telematics device. In addition, with its active jammer removal capability, the GSD4e is the solution that addresses the issue of external jammers which can't be controlled. This could include motors or deliberately transmitted jamming signals within the L1 band intended to prevent GPS receivers from calculating a position. The GSD4e is capable of detecting and removing up to 8 different jamming sources.

The A1091 is a complete telematics hardware solution including integrated antennas. Using a modular design approach it is available in several standard configurations. The implementation uses state-of-the-art components, including the SiRFstarIV GPS receiver, a quad band GSM/GPRS modem and a Cortex-M3(TM) ARM microcontroller. A major focus during the development of the A1091 was on minimizing the power consumption of the platform. While the amount of IO is limited the A1091 still offers the most important interfaces like digital and analog inputs and outputs, a standard serial port, Dallas 1-wire® and a CAN interface. The A1091 is freely programmable and, due to the use of the industry standard ARM microcontroller, there is a wide choice of development tools and software solutions available.

To facilitate the development and porting of the telematics application to the A1091 hardware, Vincotech offers a number of tools including boot loader and flash utility. It is worth noting that while the available libraries and board support package assist in programming and porting of existing applications, Vincotech, as a hardware developer and manufacturer, does not provide any finished application software.

The A1091 platform targets applications around the world and will be type-approved for all relevant markets. The certifications and type approvals according to CE, E, FCC, PTCRB and A-Tick allow the service provider fast and cost efficient solutions as grant him flexibility in responding to customer requirements.

With this new off-the-shelf A1091 platform the total cost of ownership of a reliable, performance-driven telematics hardware device is greatly reduced for the customer when compared to costs incurred in undertaking the project of developing a full-function telematics hardware device in-house. Vincotech takes care of all aspects of hardware development from design, through series production, including certification and qualification, product maintenance, fulfillment and product support, thereby allowing the customer to direct resources towards application development and provision of complete telematics solution addressing their target market.

For further information on Vincotech's GPS modules and telematics platforms please visit us at: www.vincotech.com/gps.

Vincotech is registered trade mark.

ABOUT VINCOTECH GROUP
Vincotech, a Gore Group company, develops and manufactures subsystems and electronic components and offers manufacturing services geared to help customers to master complex challenges in electronics integration. Vincotech's extensive portfolio encompasses standard and tailored solutions, engineering services, and technical support for customers worldwide. These products and services contribute to sustainable, environmentally sound solutions that help modern society embrace mega-trends and explore new avenues.

With approximately 600 employees worldwide, backed by vast experience and a long history in electronics integration, Vincotech leverages these assets to help customers achieve maximum market success.

To learn more about Vincotech, please visit www.vincotech.com.

ABOUT THE GORES GROUP, LLC
Founded in 1987, The Gores Group, LLC is a private equity firm focused on acquiring controlling interests in mature and growing businesses which can benefit from the firm's operating experience and flexible capital base. The firm combines the operational expertise and detailed due diligence capabilities of a strategic buyer with the seasoned M&A team of a traditional financial buyer. The Gores Group, LLC has become a leading investor having demonstrated over time a reliable track record of creating substantial value in its portfolio companies alongside management. The firm's current private equity fund has committed equity capital of $1.3 billion. Headquartered in Los Angeles, California, The Gores Group, LLC maintains offices in Boulder, Colorado and London. For more information, please visit www.gores.com.

More from Optics & Photonics