Ruggedized Host Controller collects data from wireless sensors.
Press Release Summary: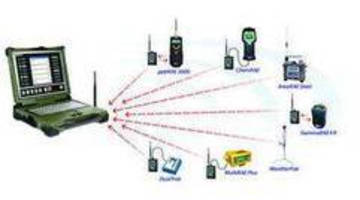 Used with AreaRAE toxic gas and radiation sensor networks, RDK Ruggedized Host consists of laptop computer with embedded wireless modem and pre-configured software. It communicates in real-time with up to 64 remote monitors for logging of sensor data and can also interface with third-party software. Embedded modem provides network with 2 mile range, and controller can push data over secure web browser when connected to Internet for real-time use by remote specialists.
---
Original Press Release:

RAE Systems Introduces RDK Ruggedized Host, a New Controller for AreaRAE Wireless Sensor Networks



SAN JOSE, CA -- 11/23/2009 -- RAE Systems Inc. (NYSE Amex: RAE), a leader in delivering innovative sensor solutions to serve energy, hazardous material management, industrial safety, government safety and environmental markets worldwide, introduced the new RDK Ruggedized Host a new host controller for AreaRAE toxic gas and radiation sensor networks.

RAE Systems New RDK Ruggedized Host provides data collection for a variety of wireless sensors on the AreaRAE network.

The new RDK Ruggedized Host consists of a ruggedized laptop computer with an embedded RAELink wireless modem and pre-configured ProRAE Remote software. The controller provides real-time communication with up to 64 remote monitors as well as logging of sensor data for historical viewing and interfacing with third-party software. The embedded RAELink modem provides the network with a two-mile range giving incident commanders the ability to manage the sensor system from the "safe zone." When connected to the Internet the controller can push data over a secure web browser for real time use by remote specialists, plus it can send alarm conditions to cell phones via text messages. Applications for the new ruggedized host include hazardous materials response, public venue protection and short-term industrial deployments as well as mobile network applications.

"We developed the RDK Ruggedized Host in response to requests from first responders who needed a more versatile command platform," said Bobby Sheikhan, RAE Systems' wireless products manager. "The new controller has one-button operation, is vibration and shock resistant, and the flexible network configuration can be easily changed to merge with other AreaRAE networks in mutual aid situations."

The new host controller supports a wide range of wirelessly enabled sensors including AreaRAE Steel and many gas- and radiation-detection instruments that interface to the network through the RAELink 3 modem. Housed in a MIL-STD 810F magnesium case that is IP-54 rated, the RDK Ruggedized Host can withstand harsh environments with temperatures ranging from -4 degrees Fahrenheit to +131 degrees Fahrenheit. It also features a sunlight-readable touchscreen and electromagnetic shielding.

The RDK Ruggedized Host Kit includes the controller with embedded RAELink device bay, removable DVD-ROM drive, universal AC adapter, right angle antenna, back up software and deluxe carrying case. Additional options include a GPS module. Prices start at $11,130. For more information on the RDK Ruggedized Host as well as AreaRAE sensor network compatible instruments please visit www.RAESystems.com.

About RAE Systems
RAE Systems is a leading global provider of rapidly deployable sensor networks that enable customers to identify safety and security threats in real time. Products include disposable gas-detection tubes, single-gas personal monitors, multi-sensor chemical detection monitors, photoionization (PID) monitors for volatile organic compounds (VOCs), wireless gas detection systems, and radiation monitoring networks for energy production and refining, industrial and environmental safety, and public and government first responder security sectors. RAE Systems' products are used in over 95 countries by many of the world's leading corporations and by many global Governmental agencies. For more information about RAE Systems, please visit www.RAESystems.com.

Company Contact
Bob Durstenfeld
408-952-8402
bdurstenfeld@raesystems.com

More from Mechanical Power Transmission