Ruggedized Guard Tour Reader has 20 year battery life.
Press Release Summary: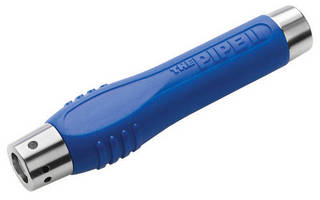 Used to confirm and document security officer patrols, PIPE II reads touch memory buttons placed at specific locations. Unit can also be used for safety inspections, fire equipment inspections, and facility inspections. Ruggedized against impact, immersion, high voltage, and microwaves, reader features abuse detection/logging and also issues reminders to officers to begin their patrols. Battery life is rated at 20+ years, without recharging.
---
Original Press Release:
Rugged Guard Tour Device has 20 Year Battery Life
Next-generation guard tour reader features extreme durability, 20 year battery life, abuse detection and officer reminders PIPE II, an updated version of THE PIPE guard tour reader, has been introduced by TimeKeeping Systems of Solon, Ohio. PIPE II features the extreme ruggedness of its predecessor, plus long battery life, abuse detection and logging, and reminders to officers to begin their patrols. PIPE II is a component of the GUARD1/plus and GUARD1/easytour guard tour systems. To confirm and document security officer patrols, PIPE II reads durable touch memory buttons. Security managers place these buttons as checkpoints at locations where officers are required to patrol. PIPE II can also be used for safety inspections, fire equipment inspections, and facility inspections to prevent slip-and-fall accidents. Managers can define additional buttons with specific meanings like "spill detected" or "fire extinguisher requires recharging" and place these in an incident wallet. These can be carried by the officer and used to record observations during patrols. In typical use, the PIPE II battery life is twenty years or more - without recharging. "We wanted battery life that was many times what was currently available," said TimeKeeping Systems engineer Blair Hamilton. "Our goal was twenty years. Doing that in a non-rechargeable device is a major technical challenge. " Battery life depends on a number of factors, including temperature, impacts (which can damage the battery's internal structure), and the number of checkpoints visited daily. PIPE II is designed for the extreme use - and intentional abuse - that a guard tour reader often receives in the hands of security officers. It has been ruggedized against impact, immersion, high voltage and microwaves. "People outside the industry don't realize the extraordinary amount of abuse that a guard tour device is subjected to," says Hamilton. "We've seen PIPEs that were thrown from a third story window, spent the winter in a snow bank, been submerged in the Atlantic Ocean - and worse. Despite the abuse, the PIPE still worked. What's new with PIPE II is that we record and log most of those events." PIPE II detects and records impacts, high voltage and immersion. Managers can view a log of these events and take corrective action. To highlight the PIPE II's durability, TimeKeeping Systems' web site features videos of PIPE II being torture tested by being pulled behind a car and cooked in a microwave oven. PIPE II also incorporates a reminder feature. When enabled, PIPE II will beep to remind officers to begin their patrols. The reminder can be set for patrols every 15 or 30 minutes, or 1, 2, or 4 hours. After the reminder beep, PIPE II will beep once each minute until a checkpoint is read. About TimeKeeping Systems, Inc. TimeKeeping Systems, located in Solon, Ohio, is a leading manufacturer of products for the security industry, including guard tour systems offered under the GUARD1 brand name. For more information, please contact: TimeKeeping Systems Sales Department www.guard1.com sales@guard1.com 1-800-THE-PIPE
Related