Ruggedized Flatpack Capacitors handle vibration up to 50g's.
Press Release Summary: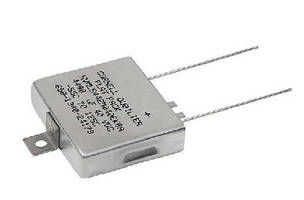 Packaged in flat, stainless steel cans that are ½ in. in height with near hermetic, precision welded construction, MLS Aluminum Electrolytic Capacitors are suited for military and commercial flight based power systems. High vibration HVMLS version is further optimized with ruggedized internal terminations and compressed can edges that keep internal winding secure when tested up to 50g's of vibration. High reliability version, Type HRMLS, is burned-in at rated voltage and 85°C.
---
Original Press Release:

Cornell Dubilier Introduces Ruggedized Flatpack Capacitors that Handle Vibration up to 50g's



Cornell Dubilier Electronics, Inc. (CDE) announces it has expanded its line of MLS Flatpack aluminum electrolytic capacitors to include a high vibration package, type HVMLS and a high reliability burn-in option, type HRMLS. Applications are mainly for military and commercial flight based power systems that require high energy density, high reliability, rugged capacitors for bulk storage, where relatively expensively wet tantalum capacitors had previously been the only type suited for these environments.



The MLS family of capacitors are packaged in flat, stainless steel cans, one-half inch in height with a near hermetic, precision welded construction, tested up to 80,000 feet. Their flat form factor allows them to be fit into tight spots, easily cooled, and easily ganged for compact, high bulk storage.  The high vibration HVMLS version is further enhanced with ruggedized internal terminations and compressed can edges that keep the internal winding secure when tested up to 50g's of vibration. The high reliability version, type HRMLS are burned-in at rated voltage and 85°C, long recognized as the established military standard to achieve excellent reliability. Both ruggedized and high reliability options may be ordered together by specifying type HVHRMLS to ensure extraordinary life and reliability in the most critical of applications.



"We design and manufacture these capacitors in our South Carolina facility. They're tested in our own military qualified lab to ensure that we meet the most stringent of industry and military standards", says Mike McGeachie, design and application engineer for Cornell Dubilier Electronics. "These new enhancements now make our MLS Flatpacks more rugged, with greater reliability for military systems" continued McGeachie.   



Since its founding in 1909, Cornell Dubilier has been dedicated to advancing capacitor technology for new applications. The company combines innovative products with engineering expertise to provide reliable solutions for inverters, wind and solar power, electric vehicles, power supplies, medical power, motor drives, HVAC, motors, welding, aerospace, telecom, and UPS systems.



A global company, Cornell Dubilier has ISO-9001 certified manufacturing and distribution facilities in Liberty, SC; New Bedford, MA; Mexicali, Mexico; and Shenzhen, China.



For inquiries, contact:

Rex Easterly

Product Marketing Manager

reasterly@cde.com

Phone: (864) 843-2277





More from Controls & Controllers