Ruggedized Flash-Based SATA SSD has 3 Gbps bus interface.
Press Release Summary: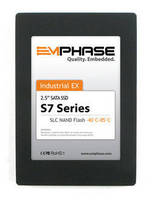 With 2.5 in. profile and performance optimizing TRIM support, S7 Series comes in 16-256 GB capacities and utilizes SLC NAND flash memory. TransferSAFE technology ensures complete data transfers, even under inconsistent power conditions, and respective read and write speeds are 250 and 200 MBps. Featuring 8 channels and one 3 Gbps SATA bus interface, industrial-grade SSD continually purges deleted files to keep performance at its peak for life (2,000,000 program/erase cycles).
---
Original Press Release:

From CPU to Flash Cell, Industrial Storage Performance that Stays Consistent for Life



Emphase, a trusted provider of Industrial and MIL-SPEC solid state storage for the embedded market, is thrilled to announce a major advance in the world of Industrial-grade storage. The rugged S7 Series 2.5" SATA SSD couples extreme-environment performance and reliability with high-speed data processing and performance optimizing TRIM support. This winning combination is the perfect match for applications that put an emphasis on speed of transfer, need a device that is continually optimized, and hinges on reliability and uptime.

The innovative S7 Series SSD marries high speed data transfer with performance optimizing TRIM support, which means that this SSD is always primed and ready to perform at its best with 8 channels and a SATA (3 Gb/sec.) bus interface. The speed of processing for this powerhouse are big strides for Industrial and Military-grade flash storage weighing in at 250 MB/sec. read and 200 MB/sec. write. Whereas traditional flash storage devices run into severe performance degradation issues due to the fact that the command is given to erase a file the cells containing the data aren't actually erased until that space is needed in the future, the TRIM-enable S7 SSD continually purges deleted files to keep performance at its peak for the life of the device.

Embedded systems have critical responsibilities that can't be compromised just because the environments in which they operate are unforgiving. The S7 Series SSD has been engineered to deliver a new technology called TransferSAFE, which ensures complete data transfers even under inconsistent power conditions, thereby preventing data loss altogether.

As with all Emphase storage devices, the S7 Series SSD starts by utilizing the inherent strengths of single-level cell (SLC) flash memory, which means that the storage cells in the NAND Flash can tolerate significantly more traffic and therefore provide increased longevity. This is ideal for users who are looking at a high cost for service calls such as in assembly or productions lines and military vehicles. With the fundamental building block of SLC NAND flash, the S7 Series SSD is engineered to endure grueling applications and bring the stability needed by Industrial and OEM-level clients. Currently available in 16GB-256GB capacity with a 512GB in planning, the S7 Series SSD is ready for long-term exposure to extreme levels of humidity, wide temperature ranges, intense shock and vibration, or high altitude.

To learn more about the S7 Series SSD and other Emphase storage devices please visit Emphase.com.

Emphase S7 SSD Specifications:

SLC NAND flash memory

Program/Erase Cycles 2,000,000 (lifetime indicator)

MTBF: >3,000,000 (reliability indicator)

Operating Temperature: -40°C to 85°C (-40°F to 185°F)

Shock: 1500 G/0.5 ms (max)

Vibration: 20 G (7~2,000 Hz)

Humidity: 10% ~ 90% (non-condensing)

Altitude: 80,000 ft.

Power Consumption: 500 mA (max)

Onboard ECC (Error Correction Code)

SMART support for health monitoring

Conformal coating available

Certified RoHS, CE, FCC Compliant

Five year warranty

Industries:

Automotive

Automated Systems

Data Center

Digital Signage

Distribution

Gaming

Government

Manufacturing

Marine

Medical

Military / Defense

Processing

Point of Sale (POS)

Surveillance

Telecom

Transportation


More from Construction Equipment and Supplies