Ruggedized Display Computer is intended for mobile applications.
Press Release Summary: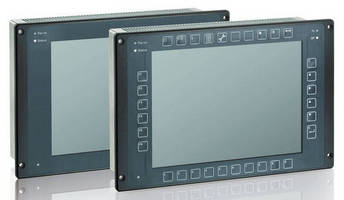 Designed for UIC 612-0x railway applications, fanless Kontron HMITR is available with capacitive touch display or hard keys and has IP65-protected front. Product is powered by 1.6 GHz Intel® Atom(TM) E6xx CPU and features Intel Platform Controller Hub EG20T as well as 1,024 MB soldered RAM. Its 10.4 in. display has LED-backlit design that automatically adapts brightness to ambient lighting for optimal contrast. Multiple connectivity, expansion, and data storage options are available.
---
Original Press Release:

Kontron HMITR: Rugged Display Computer for Mobile Applications with the Intel Atom E6xx Processor



Railway-compliant 10.4" Display Computer for harsh environments

Eching/Berlin, Germany - Today at InnoTrans Kontron announced the EN50155-compliant 10.4" Kontron Display Computer HMITR. The application-ready display computer is characterized by an extended temperature range (EN50155 T3), reduced energy consumption and powerful graphics and display technology.

Designed for UIC 612-0x railway applications, the fanless and maintenance-free Kontron HMITR with capacitive touch display or hard keys has IP65 protection on the front side to safeguard it against dust and water. Thanks to its robust design the Kontron HMITR is well prepared for many demanding applications in the traffic and transportation industries. Other applications can be also found in the military, medical and industrial automation. Typical railway applications include, for example, Driver Display Systems (DDS) according to the UIC 612-0x, where the Kontron HMITR carries out diagnostic and control functions, such as Train Radio Display (TRD), Technical and Diagnostic Display (TDD), Control and Command Display (CCD) and Electronic Timetable Display (ETD). In military applications the Kontron HMITR handles the visualization of Ethernet-connected camera, radar or sonar data. In medical technology, the Display Computer is ideal for emergency vehicles. Industrial applications can be found for example in cranes and forklift trucks, which are also used outdoors. These applications benefit from the rugged application-ready platform that is efficiently protected against heat and cold and made available by Kontron immediately after the release of the new Intel Atom processor, reducing time-to-market to a minimum.

The long-term available Kontron HMITR offers high reliability and is designed to meet the main railway standards (EN50155, EN50121-3-2, EN61373, EN60950) and compliant to CEN TS 45545-1. Application developers obtain an application ready platform at no extra cost for their own certifications, saving both time and money.

The feature set in brief
The Kontron Display Computer HMITR is equipped with the latest Intel Atom E6xx processor (with up to 1.6 GHz), the highly-integrated Intel Platform Controller Hub EG20T as well as 1024 MB of soldered RAM. For flexible integration into in-vehicle systems, the Display Computer offers a wide range of interfaces with Fast Ethernet (2x M12-D), USB 2.0 (2x M12), RS232/422 serial interfaces, GPIO CAN Layer2, as well as a loudspeaker connector (D-SUB25) and Audio Line-In/Out. Additionally, standard Gigabit Ethernet and USB 2.0, as well as a SIM and an SD card slot, are accessible behind a service flap. The 10.4" display (800x600) offers an energy-saving and long-life LED backlight which automatically adapts its brightness to the ambient lighting for best contrast. For customer-specific extensions Kontron HMITR provides two PCIe Mini Card slots for e. g. WLAN, GSM, MVB and a GPS device is available as an option. The HMI offers two data storage options: a NAND Flash SSD with up to 32 GB or an SD card. An EN50155 compliant power supply with either 24 or 72/100 volts DC rounds off the comprehensive feature set.

The Kontron Display Computer HMITR offers standard support of Windows XP/XPe, Embedded Linux, VxWorks and QNX as an option. It will become available in Q4 2010. Application-specific OEM versions of the system can be developed on request.

For further information on the EN50155 compliant Kontron Display Computer HMITR please visit: www.kontron.com/products/hmis+and+displays/panel+pc++micro+client/oem+panel+pc/en50155+certified+panel.html

Further railway products can be found here: www.kontron.com/industries/transportation/

For further information on Kontron HMIs please visit: www.kontron.com/products/hmis+and+displays/

About Kontron
Kontron, the global leader of embedded computing technology, designs and manufactures embedded and communications standards-based, rugged COTS and custom solutions for OEMs, systems integrators, and application providers in a variety of markets. Kontron engineering and manufacturing facilities, located throughout Europe, North America, and Asia-Pacific, work together with streamlined global sales and support services to help customers reduce their time-to-market and gain a competitive advantage. Kontron's diverse product portfolio includes: boards & mezzanines, Computer-on-Modules, HMIs & displays, systems & platforms, and rugged & custom capabilities. Kontron is a Premier member of the Intel® Embedded Alliance and has been a VDC Platinum Vendor for Embedded Computer Boards 5 years running. Kontron is listed on the German TecDAX stock exchange under the symbol "KBC". For more information, please visit: www.kontron.com

PR-Online: www.kontron.com/about-kontron/news-events/kontron+hmitr+rugged+display+computer+for+mobile+applications+with+the+intel+atom+e6xx+processor.4103.html

Americas
Richard Pugnier
Kontron
Tel:+1 (858) 623-3006
richard.pugnier@us.kontron.com

Annette Keller
Keller Communications
Tel:+1 (949) 640-4811
annettekeller@sbcglobal.net

All rights reserved.

Kontron is a trademark or registered trademark of Kontron AG.
Intel® and Intel® Atom(TM) are trademarks of Intel Corporation in the US and other countries.

All other brand or product names are trademarks or registered trademarks or copyrights by their respective owners and are recognized.

All data is for information purposes only and not guaranteed for legal purposes. Subject to change without notice. Information in this press release has been carefully checked and is believed to be accurate; however, no responsibility is assumed for inaccuracies.

More from Materials