Ruggedized Computers form rail transport fare system.
Press Release Summary: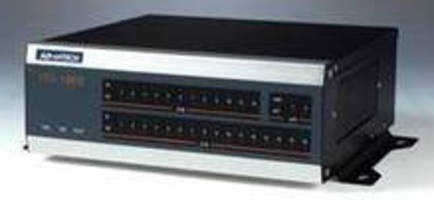 Optimized for reliability and stability, ITA-1000 series is comprised of ITA-1200 booking office machine, ITA-1100 ticket vendor, and ITA-1000 gate manager. Fanless units, based on 1.60 GHz Intel® Atom(TM) N270 CPU, provide scalable, high-capacity passenger fare data processing and communications. To foster communication, ports include two 10/100/1000 Mbps Ethernet, up to 12 serial, 16 DIO, and 8 USB 2.0. NVRAM is carried on board, and series accommodates up to 2 GB DDR2 SDRAM.
---
Original Press Release:

Rail Transport Fare System with Ticketing and Gate Control



Advantech, the leading industrial computer manufacturer, is pleased to announce the ITA-1000 series of industrial platforms, dedicated to railway fare management. When it comes to booking office functions, including ticket vending and gate control, reliability and stability are paramount, and with the ITA-1000 series, peace of mind is designed in. Built-in Intel® Atom(TM) N270 processor and low-power, fanless architecture mean durable, trouble-free operation. NVRAM means records are preserved even if power is lost. Comprehensive front panel LEDs make status available at a glance.

The ITA-1000 series comes in three distinct configurations, each keyed to a certain task in railway fare management. The ITA-1200 serves as a booking office machine; the ITA-1100 is a ticket vendor, and the ITA-1000 is a gate manager. Together, they provide fast, scalable, high capacity passenger fare data processing and communications.

Communications Specialist
Two 10/100/1000 Mbps LANs put these machines on the net. Display capabilities vary with configuration, from dual display CRT + DVI (or CRT), to dual display CRT + LVDS, to single VGA for the BOM. Ample serial ports and digital I/O likewise vary with the configuration, up to 12 serial ports and 16 channels of digital I/O. All models carry eight USB 2.0 channels.

Memory Expert
The ITA-1000 series carries NVRAM on board, and can take up to 2GB DDR2 SDRAM. Support for two SATA channels and one Ultra ATA EIDE channel round out HDD (or possible SSD) capacity.

Helping the Traveler
Advantech's emb'core software support team stands ready to help application developers get where they need to go, providing integrated software and module solutions to speed up application development. Embedded Core Services help get software, firmware and hardware module integration up to speed quickly.

Operating system options include: WinCE, WinXP, WinXPe, Linux, and the real-time QNX OS.

The ITA-1000 Series
Fanless, built-in Intel® Atom(TM) N270, 1.60 GHz CPU
Up to 2 GB DDR2 SDRAM 400/533
On board NVRAM
Supports internal SSD and 2.5" SATA HDD
Dual independent display: VGA + DVI/VGA + LVDS
2 x 10/100/1000 Mbps Ethernet ports
6 x RS-232 and 6 x RS-422/485 serial ports with automatic flow control and 128KB FIFO
Digital I/O (16-ch DI/16-ch DO)
8 USB 2.0
4 PCIe slots, one PCI

ITA-1000 will be ready in Q4, 2009. If you are looking for a smooth ride in railway fare management, consider Advantech. Contact us at: www.advantech.com.

More from Architectural & Civil Engineering Products