Rugged Ratchet P-Clamp Now UL Listed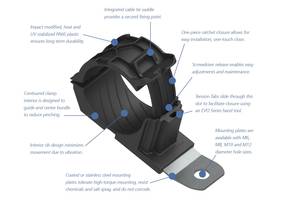 MILWAUKEE – HellermannTyton's extreme-duty Ratchet P-Clamp has successfully passed validation tests at Underwriter's Laboratory and now carries the UL Listed designation. The unique adjustable wire, cable and hose clamp offers end users a one-of-a-kind solution to route and fasten in a broad range of applications.
"This is important news for product designers, installers and maintenance crews," said HellermannTyton Product Category Manager Missy DeBord. "It will reduce instances of part replacements, and in solar applications, UL Listed components streamline the inspection process."
HellermannTyton offers the fastener with a standard zinc-plated steel base and an upgraded version with a stainless-steel base plate. Stainless steel resists corrosion due to dissimilar metals coming into contact with one another.
All versions of the Ratchet P-Clamp withstand extreme weather and harsh chemicals. Their one-piece hinge allows the clamp to open without prying. This means it can be mounted to the work surface before or after the wire, cable or hose bundle has been inserted.
The clamp closes with an interlocking ratchet-style mechanism to custom fit the bundle. Four product sizes accommodate any bundle from 1/4 inch to 2 inches in diameter. If removal of the bundle is ever required, the Ratchet P-Clamp can be opened by inserting a small, flat-blade screwdriver without disassembling the clamp from the work surface.
More information at https://www.hellermanntyton.us/products/featured-products/ratchet-p-clamp.
About HellermannTyton
HellermannTyton is a global leader in cable management and protection products, identification systems and network connectivity solutions. Its systems and solutions are specified by major manufacturers and contractors in the OEM, data communications, automotive, heavy equipment, renewable energy and related industries. The company's engineered solutions and innovative products are designed and constructed to meet the strictest quality standards while delivering reliable implementation at the lowest cost. HellermannTyton operates in 38 countries, with North American headquarters in Milwaukee, Wisconsin. www.hellermann.tyton.com
CONTACT
Mike Spanjar
Phone: 414-355-1130 Ext. 8556
Email: mspanjar@htamericas.com
More from Chemicals & Gases