Rugged Mission Computers meet military and aviation standards.
Press Release Summary: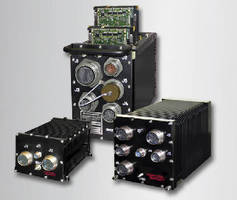 Certified to meet MIL-STD-810, MIL-STD-461, and RTCA/DO-160 military and aviation environmental engineering standards, Pre-Qualified Subsystems are available in range of configurations, including Power® Architecture and Intel® processing platforms. Systems leverage COTS module products, including rugged SBCs, video cards, DSP engines, and GPGPU cards. Offered in 3U and 6U models with 1–5 slots, systems are suited for SWaP-C constrained aircraft and ground vehicle platforms.
---
Original Press Release:

Curtiss-Wright Launches Family of Integrated Systems Pre-Qualified to MIL-STD-810, MIL-STD-461 and DO-160 Standards



Pre-Qualified Approach Significantly Reduces Risk, Saves Money and Cuts Development Time



ASHBURN, Va. — Curtiss-Wright Corporation (NYSE: CW) today announced that its Defense Solutions division has debuted a new family of rugged, open architecture Pre-Qualified Subsystems, certified to meet the demanding MIL-STD-810, MIL-STD-461 and RTCA/DO-160 military and aviation environmental engineering standards at no additional cost to the customer. Responding to increasing demand from customers to help identify ways to reduce costs and speed time to deployment, Curtiss-Wright has developed an extensive range of pre-certified subsystem product configurations that comprise the new Pre-Qualified Subsystem family. These select products eliminate the need for customers to undertake their own time-consuming, costly, and risk-fraught process of building new systems from the ground up in order to meet demanding performance requirements. Designed for optimal performance in deployed harsh environments, Curtiss-Wright's Pre-Qualified Subsystems can save customers tens of thousands of dollars and multiple weeks (typically 8-12 weeks) of development time that would otherwise be required to meet MIL-STD-810/MIL-STD-461/ RTCA/DO-160 testing requirements. They also save significant amounts of time before environmental testing even begins, because the lead-time to delivery of the first testable system can shrink from the typical 10 months-to-2 years frequently seen for a customer's internal hardware development phase, to a matter of several months.



These rugged, field-proven mission computers leverage Curtiss-Wright's unmatched industry leading COTS modules and system packaging expertise. Ideal for use in SWaP-C constrained aircraft and ground vehicle platforms deployed in harsh environments, the Pre-Qualified Subsystems support all the most popular defense and aerospace open architectures, including 3U and 6U, with configurations ranging from 1 to 5 slots.



"Our new family of rugged Pre-Qualified Subsystems have already undergone comprehensive and rigorous worst case hardware testing to reduce our customers' development costs and slash their application's time to deployment," said Lynn Bamford, Senior Vice President and General Manager, Defense Solutions division. "System integrators using these products are able to give their system development cycle a huge head-start."



About Pre-Qualified Subsystems

Curtiss-Wright's new family of Pre-Qualified Subsystems eliminates the additional cost that customers would otherwise incur from NRE-funded "delta" testing or "qualification-by-similarity" analysis of existing MIL-STD certified products. Each subsystem in the product family has undergone full environmental and architectural pre-qualification testing and is supported with comprehensive test report data.  Support for MIL-STD-810, MIL-STD-461, and RTCA/DO-160 testing promises to speed and ease the integration of these rugged SWaP-C optimized subsystems into a wide range of deployed avionics and ground platforms for use in demanding mission computer, flight control, and radar processing applications. Because these pre-qualified integrated systems undergo comprehensive testing, customers can focus on developing their important application rather than the underlying hardware.



Curtiss-Wright's Pre-Qualified Systems are available in a wide range of configurations, including Power® Architecture and Intel® processing platforms, to meet the widest range of application requirements. They leverage the Company's industry-leading COTS module products, including rugged single board computers, video cards, DSP engines and GPGPU cards.  The Pre-Qualified Systems family is designed to address the widest range of I/O requirements and supports all the most popular options, including Ethernet, MIL-STD-1553, ARINC429, SATA, USB, video, audio, Canbus, UBIC, and serial interfaces.



Curtiss-Wright Application Ready COTS Systems

The Pre-Qualified System family is based on the most popular configurations of Curtiss-Wright's extensive catalog of MPMC (Multi-Platform Mission Computer) application ready COTS subsystems. MPMCs are rugged general purpose integrated subsystems with verified operating systems and device driver support that are ready for deployment. Their Modular Open Systems Approach (MOSA)-compliant form factors ease system architecture reconfiguration using a mix of computing or I/O modules required to meet specific program requirements. Common application platforms for these integrated systems include vetronics and avionics processing systems.



Sales inquiries: Please forward all Sales and reader service inquiries to Kavita Williams, Curtiss-Wright Defense Solutions, Tel: (661) 705-1142; Fax: (661) 705-1206; email: ds@curtisswright.com.



About Curtiss-Wright Corporation

Curtiss-Wright Corporation (NYSE:CW) is a global innovative company that delivers highly engineered, critical function products and services to the commercial, industrial, defense and energy markets.  Building on the heritage of Glenn Curtiss and the Wright brothers, Curtiss-Wright has a long tradition of providing reliable solutions through trusted customer relationships. The company employs approximately 10,000 people worldwide.  For more information, visit www.curtisswright.com.



Note: All trademarks are property of their respective owners.



- See more at: http://cwcdefense.com/media-center/press-release/cw-launches-pre-qualified-system-family.html#sthash.Ky7Dxxbq.dpuf



John Wranovics

Director of Public Relations

Curtiss-Wright Defense Solutions

jwranovics@curtisswright.com

Mobile: (925) 640-6402

More from Controls & Controllers