Rugged, Handheld Inspection Camera fits in tight spaces.
Press Release Summary: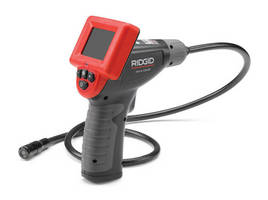 Featuring ¾ in. aluminum camera head, with 4 adjustable LEDs, and one-handed pistol grip, micro CA-25 camera is attached to fixed 3 ft cable, allowing it to fit behind walls and ceilings and inside mechanical devices and plumbing fixtures. Device includes 2.4 in. color LCD, with 480 x 234 resolution, that provides 180° digital rotation. Powered by 4 AA batteries, 1.3 lb unit has television output and 3 ft RCA cable to transmit video. Hook, magnet, and mirror are also included.
---
Original Press Release:
RIDGID® Introduces New View-Only Inspection Camera
micro CA-25 hand-held inspection camera is designed for professionals needing a fast view into tight spaces ELYRIA, OHIO - For many professionals, seeing into hard-to-reach areas can present some tricky challenges. For instance, issues in tight spaces, like cracked heat exchangers, blocked dryer vents, or leaky pipes behind walls, can be difficult to diagnose, especially when you can't "see" the problem. Now, a new member of the RIDGID® hand-held inspection camera family offers a simplified view-only addition that adds sight for professionals: the RIDGID micro CA-25 hand-held inspection camera. The micro CA-25 offers a rugged 17 mm (¾") aluminum camera head and one-handed pistol grip designed for multi-purpose visual detection, diagnosis and confirmation in hard-to-reach areas. The camera, permanently attached to a fixed three-foot cable, is easily capable of sliding into tight spaces such as behind walls and ceilings and inside mechanical devices and plumbing fixtures, making it an excellent choice for a variety of jobs. Users will quickly get a visual handle on issues as images are transmitted to the device's crisp 2.4" color LCD (480 x 234 resolution) display screen that provides a 180-degree digital rotation and incorporates four adjustable, ultra-bright LEDs in the camera head. Need a bigger picture? The lightweight device (1.3 pounds), powered with four AA batteries, comes with a television output and three-foot RCA cable for video transmission to a larger screen like a television or computer monitor. The product also comes with a hook, magnet and mirror - convenient accessories to make the job even easier. "The hand-held inspection camera is now a standard tool for most industry professionals, even if it's only on-hand for that one nightmare job," said Sarah Golish, Director of Inspection Systems and Diagnostics for RIDGID. "The micro CA-25 is the perfect camera for the professional who doesn't have a heavy need for an inspection camera, but still requires a simple solution to confidently detect and diagnose problems." Corporate Contact:
Rachel Gilmore - 440.329.4422 - rachel.gilmore@emerson.com The micro CA-25 is available for purchase at any local RIDGID distributor. More information, including product videos on the RIDGID line of hand-held diagnostic tools, can be found at www.ridgid.com/micro/. About RIDGID®
RIDGID®, a leading manufacturer of innovative tools and equipment for the professional trades, markets its products in more than 140 countries. The company's broad offering of more than 300 types of tools, including RIDGIDConnect(TM), an online business tool, serves the rental, plumbing, HVAC/R, utility, industrial, electrical, petroleum, institutional, commercial and hardware markets. RIDGID is part of Emerson Commercial & Residential Solutions, a business of Emerson, which brings technology and engineering together to design and produce some of the highest-quality tools and equipment in the world. From wet/dry vacs to the industry's best-selling pipe diagnostic system, key brands include RIDGID®, KNAACK®, PROTEAM® and WEATHER GUARD®. About Emerson Emerson (NYSE: EMR), based in St. Louis, Missouri (USA), is a global leader in bringing technology and engineering together to provide innovative solutions for customers in industrial, commercial, and consumer markets around the world. The company is comprised of five business segments: Process Management, Industrial Automation, Network Power, Climate Technologies, and Commercial & Residential Solutions. Sales in fiscal 2011 were $24.2 billion. For more information, visit www.Emerson.com. For additional information about the RIDGID micro CA-25 Digital Inspection Camera, please visit www.RIDGID.com, call toll free: 1-800-769-7743, or contact RIDGID, 400 Clark St., Elyria, Ohio 44035 U.S.A. Please send reader inquiries to: RIDGID, c/o Ultimate Lead, P.O. Box 739, Berea, OH 44017-0739. Or call 1-800-769-7743 for more information.
Contact This Company Download Spec Sheet
More from Adhesives & Sealants