Rugged Field and Desktop VoIP Phones suit military applications.
Press Release Summary: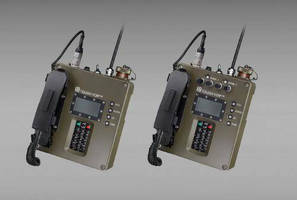 Featuring speaker as well as Ethernet and SHDSL connectivity, EB Tough VoIP Field Phone enables streaming video, maps, real-time data, and situational awareness and local Ethernet connection for other devices. Wall-mounted EB Tough VoIP Desktop Phone offers speaker and Ethernet connectivity and allows voice services in command posts and vehicles. Devices enable militaries to communicate and bring broadband data connectivity to field, vehicles, and command posts.
---
Original Press Release:

EB Unveils New VoIP Phones Designed for Defense Manufacturers and Militaries Worldwide



At Eurosatory 2010 in Paris, New Field and Desktop Phone Strengthens EB Tough VoIP's Ability to Bring Advanced Voice and Broadband Services to the field

OULU, Finland - EB, Elektrobit Corporation (OMX: EBC1V), a developer of cutting-edge embedded technology solutions for automotive and wireless industries, today announced two new VoIP phones to its EB Tough VoIP(TM) product portfolio with EB Tough VoIP Field Phone and EB Tough VoIP Desktop Phone. Introduced today at Eurosatory 2010 in Paris, these rugged products increase the ability of militaries to communicate and bring broadband data connectivity to the field, vehicles and command posts.

As part of the EB Tough VoIP product portfolio, the EB Tough VoIP Field Phone and Desktop Phone can be seamlessly integrated to customers' existing communications infrastructure. Their rugged design enhances their ability to provide reliable VoIP services when faced with demanding conditions, enabling militaries to gain new and improved operational capabilities. These cutting-edge products come equipped with the flexibility required to meet different customer-specific requirements.

EB Tough VoIP Field Phone comes with an integrated speaker, Ethernet and SHDSL connectivity. The phone enables several innovative applications, including:

- Greater levels of voice and broadband services in the field

- Streaming video, maps, real-time data, and situational awareness

- Local Ethernet connection for other devices

EB Tough VoIP Desktop Phone is equipped with an integrated speaker and Ethernet connectivity providing:

- Voice services for command post and vehicular use

- Design allows for the solution to be wall-mounted in vehicles

"Understanding the importance for militaries to utilize broadband services over existing communications infrastructure, we designed these new phones in order to meet those demands and strengthen operational capability," said Mikko Viitaniemi, senior manager, Wireless Solutions, EB. "These products further exhibit EB's ability to develop robust products for the defense industry, and engineer the most dynamic solutions that promote next-generation communications for militaries."

Eurosatory is a defense industry trade show held every two years in Paris and is organized in partnership with the French Ministry of Defense. The show attracts global industry leaders and experts throughout the defense and security sectors.

For meeting requests with EB at Eurosatory 2010, please contact Mikko Viitaniemi, tel. +358 40 344 2579. For more information about EB Tough VoIP products, visit: www.elektrobit.com

EB, Elektrobit Corporation

EB develops advanced technology and transforms it into enriching end user experiences. EB specializes in demanding embedded software and hardware solutions for the automotive industry and wireless technologies. The company's net sales for the year 2009 totaled EUR 153.8 million. Elektrobit Corporation is listed on the NASDAQ OMX Helsinki. www.elektrobit.com

About EB's Wireless Solutions Business

EB Wireless Solutions is a trusted innovation partner to the global wireless value chain. It provides flexible solutions from consulting services to delivering full turnkey products for cutting-edge consumer devices, professional devices, network infrastructure modules and variants.

Source: EB, Elektrobit Corporation

Web Site: www.elektrobit.com/

Related