Rugged Display Computer supports sophisticated video capture.
Press Release Summary: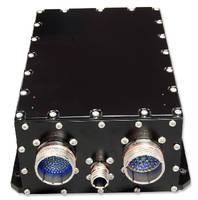 Intended for prime contractors, systems integrators, and OEMs developing sophisticated video capture, processing, and transmission applications with multiple inputs and outputs, Model DAQMAG2A is qualified to DO-160G standard for airborne environments. Computer offers choice of Intel Core i7 processors, 8 GB of DDR3 SDRAM, and 8 GB of Flash memory. Unit also provides 64 GB SSD with AE-128 hardware encryption, 3 Gigabit Ethernet interfaces, 4 USB ports, 2 serial COM ports, and audio line in/out.
---
Original Press Release:

New Rugged High Performance Display Computer from GE Minimizes Cost, Risk and Time-to-Market



Designed for sophisticated video capture, processing and transmission applications

High Technology Readiness Level (TRL) maximizes customer confidence

Qualification to DO-160G standard assures robust reliability in airborne environments



HUNTSVILLE, AL. — GE's Intelligent Platforms  business (NYSE: GE) today announced the high performance DAQMAG2A Rugged Display Computer. Designed to minimize cost, risk and time-to-market for prime contractors, systems integrators and OEMs developing sophisticated video capture, processing and transmission applications with multiple inputs and outputs, it is qualified to the DO-160G Environmental Conditions and Test Procedures for Airborne Equipment standard.



The DAQMAG2A Line Replaceable Unit (LRU) has already been successfully deployed by AgustaWestland on the AW189 and AW101 helicopters and by FLIR Systems Inc.



The high TRL (Technology Readiness Level 9) of the DAQMAG2A means systems integrators can select it with confidence to concentrate on solving more important challenges such as integration into the higher level system, application development/port and so on.



"We see a clear trend from systems integrators who are no longer prepared to take the risk of consuming valuable in-house resources – and incur unnecessary time, effort and expense – in the relatively low level task of taking individual boards and putting them together into a system before being able to begin their software development," said Simon Collins, Product Manager at GE's Intelligent Platforms business. "The DAQMAG2A enables them to eliminate that risk, get their product to market faster and increase their competitive advantage while focusing resources where they can leverage their core competencies to add real value."



The DAQMAG2A has a rich video I/O set, enabling it to be connected to a variety of video inputs and outputs. These video connections support standard definition, high definition, and computer resolutions up to 1,600 x 1,200.The hardware can connect to most industry standard analog and digital formats including HD/SD SDI, NTSC and PAL as well as RGB including sync-on-green standards.



At the heart of the DAQMAG2A is a choice of Intel Core i7 processors, 8 GBytes of DDR3 SDRAM and 8 GBytes of Flash memory. Also provided is a 64 GByte Solid State Disk (upgradable to 256 GBytes) with AE-128 hardware encryption for the data and the ability to purge the data, if necessary.



The DAQMAG2A supports three Gigabit Ethernet interfaces, four USB ports, two serial COM ports and audio line in/out on the front panel.



For more information: http://defense.ge-ip.com/products/daqmag2a/p3751

For more technical information: http://defense.ge-ip.com/download/datasheet-daqmag2a/13835/3751/



About GE's Intelligent Platforms business

GE's Intelligent Platforms business (NYSE: GE) is headquartered in Charlottesville, VA and part of GE Energy Management. The company's work in the military/aerospace segment, headquartered in Huntsville, AL, and Towcester, England, provides one of the industry's broadest ranges of high performance, rugged, SWaP-optimized embedded computing platforms. Backed by programs that provide  responsive customer support and minimize long term cost of ownership for multi-year programs, GE's solutions are designed to help customers minimize program risk and cost, and to speed time-to-market. For more information, visit defense.ge-ip.com.



For more information, contact:

Ian McMurray

Media Relations Manager

GE Intelligent Platforms

+44 (0) 1327 322821

ian.mcmurray@ge.com

More from Software