DC to DC Power Supplies (Converters)
Rugged DC/DC Power Supply delivers 1,000 W in harsh environments.
Press Release Summary: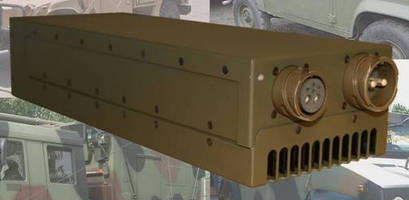 Incorporating dual Powerstax F501 DC/DC converters, TVS1001 offers step-up or step-down conversion. Electronic circuits are sealed to withstand exposure to harsh, dusty environments and are cooled via mechanically isolated, field-replaceable fan unit that offers choice of speeds depending on operating environment. Accommodating 11-36 Vdc input, power supply can be configured over range of standard output voltages or customized to meet unique requirements.
---
Original Press Release:

Powerstax USA Launch of Its NEW Ruggedised 1000 watt DC-DC Power Supply at Electronics New England



Powerstax, one of Europe's leading application-rich power solutions manufacturers, will use the Electronics New England (formerly Nepcon East & Electro 2011) exhibition in Boston to show their new TVS1001 ruggedised 1000 watt DC-DC power supply for the first time in the USA.

The TVS1001 and other high efficiency commercial and MIL COTS power conversion products from Powerstax will be featured on booth 1102 by their North American Manufacturers Representative, Power Guide Marketing.

At the heart of the TVS1001 are two patented Powerstax F501 DC-DC converters which have demonstrated ability to perform under the harshest of conditions with field proven use in military applications. It is one of the few units of its kind that offers step-up or step-down conversion at consistently high efficiency. The electronic circuits are sealed to withstand exposure to the harshest of dust environments and are cooled with a mechanically isolated field replaceable fan unit. The unit is highly efficient offering a choice of fan speeds dependent on the operating environment.

The Powerstax TVS1001 has a wide range DC input voltage, from 11 to 36 volts, making it ideal for vehicle mounted Military and Non-Tactical, fixed and mobile communications and security systems. The unit can be configured over a range of standard output voltages or customised to meet special requirements.

Typical applications for Powerstax MIL COTS power solutions include defence, homeland security, avionics, shipboard and ground systems and mobile/vehicle mounted equipment.

Powerstax also supply an extensive range of standard and custom AC & DC power solutions for centralised and distributed power (DPA) in a broad range of applications including hot swap front end AC-DC bulk power, DC-DC converter bricks and programmable, modular rack mounted Power Supplies, for use in Telecoms, Datacoms, IT, Industrial, Test & Control, Transportation, Medical and all commercial markets. For more information contact sales@powerstaxplc.com or visit www.powerstaxplc.com

About Powerstax:
POWERSTAX plc specialises in the design, manufacture and marketing of high power density, high efficiency AC-DC and DC-DC power supplies including DC-DC Converters, Configurable, Modular SMPS, plus AC Rectifiers and Bulk Power PSU. In addition Powerstax provides Value Added and complete Custom Power Solutions. Powerstax provides standard and custom AC & DC power solutions for centralised and distributed power (DPA) in a broad range of applications including hot swap front end AC-DC bulk power, DC-DC converter bricks and programmable, modular rack mounted SMPS, for use in Telecoms, Datacoms, IT, Industrial, Test & Control, Transportation, Avionic, Defence, Medical and all commercial markets.

For more information contact;
Kathy Marriage
Powerstax plc.
Unit 5, Armstrong Mall, Southwood Business Park, Farnborough, Hants. GU14 0NR. UK.
Tel: +44(0)1252 407800 Fax: +44(0)1252 407810
Email: sales@powerstaxplc.com
www.powerstaxplc.com


More from Machinery & Machining Tools