Instrument / Tool / Equipment Cases
Rugged Cases protect Microsoft Surface 3 and Surface Pro 4.
Press Release Summary: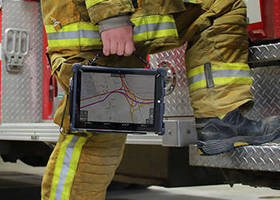 Featuring protected ports that prevent water and dust from entering device, rugged cases for Microsoft® Surface™ 3 and Surface™ Pro 4 are impact-resistant and pass MIL-STD-810G testing (26 drops from 4 ft). Construction is of enterprise-grade plastic, and rubber bumpers occupying each corner provide additional shock absorption.  Along with back hand strap, briefcase handle, and shoulder strap for mobility, features include easel with hinge for any-angle viewing and secure, magnetic closure.
---
Original Press Release:
Introducing the Easy-to-Carry Rugged Cases for Surface 3 and Surface Pro 4
MobileDemand is leading the way in the rugged Windows® tablet industry, consistently innovating and developing new products for mobile workforce productivity. Announced today, the company has created a robust, one-of-a-kind rugged case for the Microsoft® Surface™ 3 and Surface™ Pro 4. MobileDemand designed the cases as a participant in the Microsoft Designed for Surface Program.

Rugged Surface Tablet Cover The versatile rugged Surface cases from MobileDemand are impact-resistant with protected ports, preventing unwanted water and dust from entering the device. Engineered for maximum protection, the cases are constructed out of an enterprise-grade plastic with rubber bumpers occupying each corner for added shock absorption. It's lightweight for mobile applications yet durable for tough, industrial jobs.

Easy to Carry and Hold – Both the Surface 3 and Surface Pro 4 cases offer a comfortable back hand strap, convenient briefcase handle and shoulder strap for reliable mobility. A secure grasp on the device is key to ease of use and preventing users from dropping the device, keeping IT costs down.

Proven Ruggedness – For a device to pass MIL-STD-810G testing, it must survive 26 drops from four feet. Many companies use up to five devices to pass those tests whereas MobileDemand uses only one and provides video recording and test reports as a resource. It is a testament to the high quality and standards of the product and is proven to protect your assets.

Fully Adjustable Easel – The cases feature an innovative rugged easel with a strong hinge for any-angle viewing. Strong magnets are embedded in the case which keeps it securely closed when not in use. In addition, when closed, the easel helps keep the Type Cover Keyboard securely attached to the tablet.

Easy Vehicle Mounting – Another standard feature of the Surface case is a clip for the MobileDemand Snap Mount. The optional vehicle mount is ultra-slim and sturdy, allowing the device to be securely docked in vehicles for added functionality in the field. The mount is engineered for quick insertion and release of the Surface tablet.

Designed for Microsoft SurfaceThe Surface Screen Protector – Additionally, customers may shield the Surface 3 and Surface Pro 4 display from scratches, smudges and chips by implementing a chemically strengthened glass screen protector. The water-resistant screen protector reduces wear on the device while preserving optimal screen clarity and fast response to both touch and Pen.

"The Designed for Surface program was created to address the growing demand for Surface accessories to complete a wide range of use scenarios in business, at home and on the go," said Cyril Belikoff, Director, Microsoft Surface. "We look forward to working closely with our Designed for Surface Program participants to better serve their customers and create compelling solutions together."

The rugged Surface 3 case will be available by the end of March and the Surface Pro 4 case by the end of April.