Rugged Cartridges facilitate removable SATA SSD deployment.
Press Release Summary: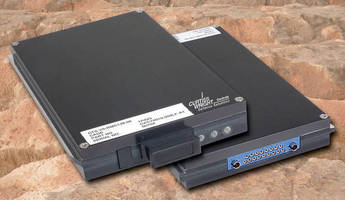 Available un-populated or integrated with SATA drive, Vortex Rugged Memory Cartridges (RMCs) provide system designers with open-standard, flexible approach for adding secure, removable, high-density storage to deployed embedded compute platforms in defense and aerospace applications. Each cartridge holds one 2.5 in. SATA drive and features 100,000 insertion cycle connector. Memory densities are available up to 1 TB, and available types include SLC NAND Flash, eMLC NAND Flash, or MLC NAND Flash SSDs.
---
Original Press Release:

Curtiss-Wright Controls Introduces Rugged Cartridges for Standard High-Density SATA Solid State Drives



Removable memory cartridge houses 2.5" SATA drives with 100,000 insertion cycle connector



ASHBURN, Va. – Curtiss-Wright Controls Defense Solutions, a business group of Curtiss-Wright Controls, has introduced a family of rugged housing units that ease the deployment of removable industry-standard high-density SATA solid state drives (SSDs) into embedded systems for defense and aerospace applications. Each Vortex Rugged Memory Cartridge (RMC) holds a single industry-standard 2.5" SATA drive and features a non-proprietary, long lifecycle 100,000 insertion cycle connector. Vortex RMCs provide system designers with an open-standard, flexible approach to add secure removable high-density storage to their deployed compute platforms. Because Vortex RMCs are designed for use with standard SATA solid-state drives (SSDs), they ease technology refresh and reduce the risk of obsolescence.



The Vortex RMC is available un-populated, already integrated with a SATA drive specified from Curtiss-Wright's selection of "best-in-class" offerings, or Curtiss-Wright can consult with the system designer to identify the specific SATA drive available in the market that meets their unique mix of density/encryption/sanitation/performance requirements. RMCs are also offered in fully integrated Curtiss-Wright data transport subsystems such as the Vortex Data Transport System (DTS) and VRD1 Video Management System.



"Our rugged RMC deliver a new level of flexibility to system designers seeking a solution for removable, rugged data storage," said Lynn Bamford, senior vice president and general manager of Curtiss-Wright Controls Defense Solutions. "RMCs enable the use of standard SATA SSDs in the harshest and most demanding military environments, while enabling many years of safe removal."



Available in a wide range of memory densities up to 1TB (2 TB density models are scheduled to be available in 2014), RMCs enable the system designer to select the drive type that best suits their lab development or rugged deployed requirements, including SLC NAND Flash, eMLC NAND Flash or MLC NAND Flash SSDs. To ease removal of the compact, shirt-pocket sized RMCs during missions, Curtiss-Wright provides the units with a handle specially designed for use with gloved hands (i.e, Nomex flight gloves). A dedicated SATA-to-USB download station, planned for 2014, will further speed and ease data transfer.



Sales inquiries: Please forward all Sales and reader service inquiries to Jerri-Lynne Charbonneau, Curtiss-Wright Controls Defense Solutions, Tel: (613) 254-5112; Fax: (613) 599-7777; e-mail: defensesales@curtisswright.com.



For additional information on Curtiss-Wright Controls Defense Solutions please visit: www.cwcdefense.com.



About Curtiss-Wright Controls Defense Solutions



Curtiss-Wright Controls Defense Solutions is a long established technology leader in the development of rugged electronic modules and systems for defense applications. Defense Solutions serves as a technology and integration partner to its customers, providing a full range of advanced, highly engineered solutions from modular open systems approaches to fully custom optimized solutions. Our unmatched capabilities and product breadth span from industry standard based COTS modules to complete electronic subsystems. The company's modules and systems are currently deployed in a wide range of demanding defense & aerospace applications including C4ISR systems, unmanned subsystems, mission computing, fire control, turret stabilization, and recording & storage solutions. Additionally, the company's broad engineering capabilities combine systems, software, electrical, and mechanical design expertise with comprehensive program management and a broad range of life-cycle support services. For more information visit www.cwcdefense.com.



About Curtiss-Wright Controls, Inc.



Headquartered in Charlotte, N.C., Curtiss-Wright Controls is the Control segment of Curtiss-Wright Corporation. With manufacturing facilities around the world, Curtiss-Wright Controls is a leading technology-based organization providing niche motion control products, subsystems and services internationally for the aerospace and defense markets. For more information, visit www.cwcontrols.com.



NOTE: All trademarks are property of the respective owners

More from Optics & Photonics