Rugged Aluminum Keyboards feature completely sealed design.
Press Release Summary: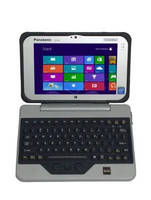 Custom designed to snap onto and draw power from 7 in. Panasonic Toughpad® FZ-M1 Tablet, FZ-M1 Jumpseat™ Keyboards are resistant to dust, oil, dirt, and water. Units provide screen protection and USB 3.0 connectivity. Three versions are available, including basic model, backlit model, and backlit model with fingerprint reader for additional security. Cycling through 4 levels of backlighting, keyboards let users continue working in low light environments with clearly illuminated keys.
---
Original Press Release:

iKey® Introduces 3 Snap-in-Place Fully Rugged Keyboards for Panasonic's Popular Toughpad® FZ-M1



The M1 Jumpseat(TM) keyboard line offers worldwide protection and advanced features



AUSTIN, Texas -- iKey, the leading manufacturer of rugged keyboards and computer accessories, introduces its newest addition to the Jumpseat line, the FZ-M1 Jumpseat(TM) keyboard. Custom designed to snap onto the Panasonic Toughpad® FZ-M1, a rugged, 7-inch Windows tablet built for enterprise users, the Jumpseat serves as a fully rugged on-the-go keyboard, provides screen protection, and USB 3.0 connectivity and additional functionality to enhance productivity in the field.



The iKey Jumpseat uniquely draws its power directly from the Panasonic Toughpad. The keyboard's case is built out of aluminum and is completely sealed - fully resistant to dust, oil, dirt, and water, ideal for any environment. It also cycles through four levels of integrated backlighting to continue working in low light environments with clearly illuminated keys and increase performance.



There are three different versions of the Jumpseat. The first is a basic model, second includes backlighting, and the third includes backlighting and a fingerprint reader for additional security.



"One of the greatest strengths iKey has to offer the customer is our 25 years of experience.  We have the insight to develop specific products aimed to achieve a simple goal, to make the end user's life easier.  With the launch of the Jumpseat keyboard for the Toughpad FZ-M1, customers are now equipped with a strong, mobile work station that feels and functions like a singular cohesive unit, able to handle the harshest environments," said Steve Meyer, CEO, iKey.



Panasonic's 7-inch Toughpad FZ-M1 is a rugged, thin, and lightweight tablet powered by Windows 8.1 Pro with two choices of Intel® processors. It has met the MIL-STD-810G specifications for drops (up to 5 feet), shock, vibration, altitude, humidity and extreme temperatures, as well as IP65 standards for rain and dust resistance. Other features include a daylight-readable, multi touch screen with glove touch technology and a Li-ion user-replaceable battery, bridge battery and optional long life battery.



"Today's field workers rely on rugged tablets such as our Toughpad FZ-M1 to be accessible, efficient and mobile, even in the most challenging environments," said Dan Diliberti, Senior Product Marketing Manager, Tablets, Panasonic System Communications Company of North America. "As enterprise demands continue to evolve, tools like the Jumpseat attachable keyboard help Toughpad users eliminate back-and-forth trips to the office by enabling them to tackle tasks from any location, such as report writing or data entry. Panasonic is pleased to once again work with iKey to make our Toughpad even more effective in the field."



The FZ-M1 Jumpseat keyboard will be available exclusively through Panasonic in January 2015.



For more information on iKey's FZ-M1 Jumpseat keyboard and our line of Panasonic compatible products, visit ikey.com, ikey.com/partners/panasonic/ or iKey's YouTube Channel for product demos and features.



Follow iKey on Twitter (@iKeyKeyboards), Facebook, LinkedIn, and Instagram (@ikeyltd).



About iKey, Ltd.: iKey globally designs and manufactures rugged, sealed keyboards, displays and pointing devices for industrial, public safety, medical and military applications. iKey is known as an innovator of customized industrial keyboards and computer accessories. Solving complex unique mobile and industrial data input needs for 25 years. iKey is the leader in the rugged keyboard industry, used in 88 countries and sold worldwide. For more information, visit www.ikey.com.



CONTACT:

Kathy Paz

(512) 837-0283

Kathy@ikey.com

More from Portable Tools