Rubbermaid Commercial Products Wins ISSA Innovation Award with DVAC(TM) 1-Pass Cleaning Solution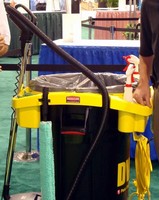 Winchester, VA (October 14, 2008) - Rubbermaid Commercial Products (RCP), the leader in durable facility maintenance solutions was awarded a 2008 ISSA Product Innovation Award for its new DVAC(TM) 1-Pass Cleaning Solution. The award was presented at the cleaning industry's largest trade show, the International Sanitary Supply Association (ISSA)/ INTERCLEAN show held in Las Vegas, NV.

The ISSA Product Innovation Awards were judged by the cleaning industry's distributors, building service contractors and in-house service providers attending this year's ISSA show, who cast their votes for the most innovative products in five different categories: chemicals, paper/plastics, power equipment, supplies & accessories, and other products-services & technology. Of the numerous products displayed, show attendees selected Rubbermaid's new DVAC as the most innovative product in the Services & Technology category.

"We're proud and honored to be recognized as the leader in product innovation for the fourth consecutive year," said Larry McIsaac, global president of Rubbermaid Commercial Products, LLC. "Being voted by our customers in the Services & Technology category tells us that we're on the right track when it comes to providing easy, smart and powerful solutions to key cleaning challenges."

The award-winning DVAC(TM) 1-Pass Cleaning Solution is a dolly-integrated vacuum that allows cleaning professionals to collect waste and recycling, dust and vacuum in one pass, optimizing both productivity and cleaning quality.

For more information about Rubbermaid Commercial Products' latest innovative products, visit the Rubbermaid Commercial Products' web site at www.rcpworksmarter.com or call your RCP distributor.

ABOUT ISSA
As the leading international trade association for the cleaning industry, ISSA's worldwide membership includes more than 4,500 distributor, manufacturer, building service contractor, and in-house service provider members. For more information, visit www.issa.com.

ABOUT Rubbermaid Commercial Products, LLC
Rubbermaid Commercial Products, headquartered in Winchester, Va, is a manufacturer of innovative, solution-based products for commercial and institutional markets worldwide. Since 1968, RCP has pioneered technologies and system solutions in the categories of food services, sanitary maintenance, waste handling, material transport, and safety products. A 1999 merger joining Rubbermaid Inc. with Newell Co. formed Newell Rubbermaid Inc. a $6 billion global product powerhouse. RCP, an ISO 9001:2000 manufacturer, is a division of Newell Rubbermaid Inc. and continues to develop innovative products.

More from Architectural & Civil Engineering Products