Rubber Washer prevents shaft collars from getting stuck.
Press Release Summary: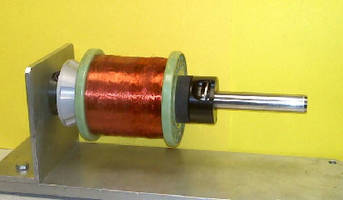 Designed for use with U-Clip quick release shaft collars, Elasto-Ring Washer installs by hand and assures easy removal of U-Clip collar. When U-Clip is in place, Elasto-Ring is against spool flange — between flange and U-Clip. If back pressure starts to build, it is largely absorbed by Elasto-Ring which flexes against collar. Available in 10 sizes for shaft diameters from 8–35 mm, washer will not deteriorate from heat generated by friction coming from rotating spool flange.
---
Original Press Release:

Simple Rubber Washer Prevents Shaft Collars from Getting Stuck on Shafts



Aston, PA,  -- Amacoil/Uhing has introduced the Elasto-Ring washer for use with U-Clip quick release shaft collars. Elasto-Ring installs by hand with no tools required and assures easy removal of the U-Clip collar.



When a U-Clip is placed on a shaft to hold a reel or core in place, the reel or other object begin secured, can create back pressure against the U-Clip. For example, the flanges on a reel may bulge as the spool fills. As the flanges expand and push against the U-Clip collar, the increasing pressure may interfere with the function of the quick release mechanism and make it difficult to remove the U-Clip.



The Elasto-Ring washer snaps onto the end of the U-Clip collar. When the U-Clip is in place, the Elasto-Ring is against the spool flange -- between the flange and the U-Clip. If back pressure starts to build, it is largely absorbed by the Elasto-Ring which flexes against the U-Clip collar. This effectively cushions the U-Clip and prevents a significant build up of back pressure. The quick release feature assures fast, easy, one-handed removal of the U-Clip and Elasto-Ring.



Elasto-Ring washers are available in the same ten sizes as U-Clip collars for use on shafts with diameters ranging from 8 mm to 35 mm. Made from durable, heat resistant rubber, Elasto-Ring washers are long lasting and will not deteriorate from heat generated by friction coming from the rotating spool flange.



Ideal for most basic spooling processes, U-Clip shaft collars with Elasto-Ring washers may not be suitable for some high-speed packaging and converting operations. For these applications, where it is important that there be no play between the shaft and reel, Uhing EasyLock shaft collars feature adjustable clamping force which eliminates play and assures that the reel and shaft start and stop together. For maximum holding force, both U-Clip and EasyLock collars must be used on case hardened and precision ground smooth shafts with no threads.



Amacoil is the exclusive US distributor for Elasto-Ring washers, Uhing U-Clip and EasyLock shaft collars, and for Uhing rolling ring traverse drives. For more information, technical support or sales, please contact Amacoil, Inc., PO Box 2228, 2100 Bridgewater Road, Aston, PA 19014. Tel: 610-485-8300. Fax: 610-485-2357. email: amacoil@amacoil.com   Web: www.amacoil.com

More from Controls & Controllers