Rubber Tired Gantry Cranes offer hybrid power option.
Press Release Summary: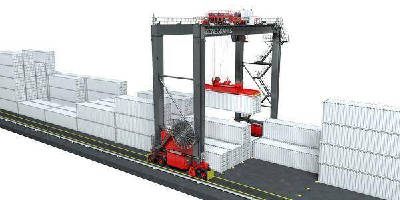 With Hybrid Diesel/Electric Power Pack, Rubber Tired Gantry Cranes operate with electrical power drawn from energy store whenever possible, and takes energy generated during braking and converts it into electricity to recharge batteries. Diesel Fuel Saver provides power-on-demand, matching rpm of RTG engine to work machine is doing. Cable Reel and Busbar options convert RTG to fully electric operation, eliminating diesel exhaust emissions.
---
Original Press Release:
New Hybrid Power Pack Completes Konecranes' Full Range of Power Options for RTGs
Konecranes has introduced a Hybrid (diesel/electric) power option for its Rubber Tired Gantry cranes (RTGs), which can reduce diesel fuel consumption by over 60 %. With the addition of this new power option, Konecranes now provides a full range of solutions for RTGs: Hybrid Power Pack, Diesel Fuel Saver, and two electric power options, the Cable Reel and Busbar. Customers can thus choose either a diesel or electric solution, depending on their business requirements. The Hybrid Power Pack and Diesel Fuel Saver provide the flexibility of diesel power, while the two electric options provide the benefits and convenience of electricity - no diesel, less maintenance, less noise and lower emissions. Complete range, full power
The Konecranes Hybrid Power Pack turns a fully-diesel RTG into a diesel/electric hybrid RTG. Whenever possible, the crane is operated with electrical power drawn from the energy store. Like a hybrid car, it takes the energy generated during braking and converts it into electricity to recharge the batteries. Depending on usage, this solution can significantly reduce diesel fuel costs. Put another way, the RTG can operate much longer on a tank of fuel. The Diesel Fuel Saver provides power-on-demand, matching the RPMs of the RTG engine to the work the machine is doing. It ensures that the diesel engine is running at maximum efficiency at all operating points, without high-speed idling. Compared with conventional diesel engine operation, the Diesel Fuel Saver can considerably reduce fuel consumption, resulting in cost savings of tens of thousands of euros per RTG per year in typical operation. The Cable Reel and Busbar options convert the RTG to fully-electric operation, eliminating diesel exhaust emissions and ensuring quiet RTG operation. The latter is an important consideration when the container terminal is located near a residential area. There is no downtime for refueling, so the RTG can spend more time in productive operation. The time saved by not refueling can amount to up to one working week per year. Full service
Konecranes not only provides a full range of power options, it also provides a full range of services for RTGs, including maintenance and retrofits. When Konecranes modernizes an RTG with a power option retrofit, the company makes sure that the power system is fully integrated with the mechanical and electrical systems. This ensures that the RTG continues to work reliably and efficiently. About Konecranes:
Konecranes is a world-leading group of Lifting Businesses(TM) offering lifting equipment and services that improve productivity in a wide variety of industries. The company is listed on NASDAQ OMX Helsinki Ltd (symbol: KCR1V). With over 11,500 employees at more than 600 locations in almost 50 countries we have the resources, technology and determination to deliver on the promise of Lifting Businesses(TM). For more information, please contact:
Svend Videbæk
Konecranes Finland Corporation
P.O. Box 662
FI-05801 Hyvinkää
Finland
Mob. +358 40 729 3953
svend.videbaek@konecranes.com
www.konecranes.com
Contact This Company Download Spec Sheet
More from Material Handling & Storage