Rubber-Based Adhesive is suited for automotive assembly.
Press Release Summary: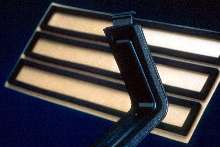 With 12-point liner and polyester carrier, MACbond® IB-1185 performs general-purpose bonding applications, providing dimensional stability and die-cutting properties suited for automotive manufacturing. Product offers high-tack properties suited for bonding applications such as gasketing, sound dampening, and dust sealing.
---
Original Press Release:
MACbond® IB-1185: Ideal for Automative Assembly

Stow, Ohio - May 2003 - Thanks to its thick, 12-point liner, MACtac® Technical Products' IB-1185 is a popular product in the automotive industry.

IB-1185, a MACbond® product, is a rubber-based adhesive designed for general purpose bonding applications such as gasketing, sound dampening and dust sealing. But with its 12-point liner and polyester carrier, IB-1185 gives customers the dimensional stability and superior die-cutting properties needed in automotive manufacturing.

MACtac's technical marketing manager, Gerry McLean: "Our goal is to help customers meet their goals, and IB-1185 helps them do this. In addition to excellent lay-flat properties, the 12-point liner provides easy die-cutting and part removal, which makes the assembly process more efficient."

IB-1185 is a member of the MACbond 1180 series, a family of general performance rubber-based adhesives with "high tack" properties. To obtain product samples, please contact the MACtac Technical Products group by phone 1.800.323.3439, fax 330.689.3932, or email MACtactechnical@MACtac.com. To review the entire line of MACtac automotive assembly products, please request the Automotive Brochure (#4004). For a closer look at MACtac Technical Products' complete line of pressure sensitive adhesives, request brochure #4020.

MACtac, a leading supplier of pressure sensitive adhesive materials, offers solutions for a wide range of industries including printing, graphic design, packaging, digital imaging, photographic, assembly engineering, medical and communications. MACtac is a subsidiary of the Bemis Company, Inc., the largest flexible packaging supplier in North America. Headquartered in Stow, Ohio, MACtac is a global company with manufacturing and distribution facilities in several countries. For more information, please call 1.800.323.3439, e-mail MACtactechnical@MACtac.com or visit www.MACtac.com.

More from Packaging Products & Equipment