RTP Company and Impact Colours Collaborate in Offering Masterbatch Products in Europe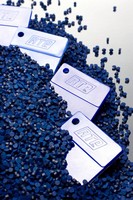 RTP Company and Impact Colours Collaborate in
Offering Masterbatch Products in Europe

WINONA, MN, USA - May 24, 2007 - RTP Company and Impact Colours UK are initiating a collaborative effort to offer masterbatch products to European plastics processors. With RTP Company's strong compounding presence in continental Europe and Impact's growing presence in the UK colour market, the partnership will enable both companies to increase capacity and coverage.

"This collaboration will greatly enhance customer access to Impact's products in continental Europe," said Gary Alecock, Managing Director of Impact Colours UK. "The Impact-RTP Company alliance will have an equal footing with companies that have operations overseas, as RTP Company also has plants located in the United States, Singapore, and China."

"The objective is to increase the service level of developments and maintain the offer of consistent quality products, wherever they are needed in Europe and elsewhere around the world," said Jean Sirois, RTP Company's General Manager of Colour. "RTP Company can also tap into additional developmental capacity and will now be able to increase its presence in the consumer and industrial sectors by providing faster service."

Together, these two innovative companies provide an unsurpassed service level with an emphasis on quality. The companies share the same universal masterbatch formulations and present themselves as one in selected European markets using the RTP Company brand name UniColour(TM) and the Impact brand name MaximUM for both custom and standard colours.

Universal masterbatches from RTP Company and Impact can be utilized to colour all polymers, including engineering resins with extremely low let-down ratios, typically 1% or 2% depending on the polymer. UniColour and MaximuUM are based on an advanced proprietary carrier which results in superior distribution properties, offering a great solution to processors that want one colour product for many applications made with various polymers. More than 200 colours are stocked in Europe and available through RTP Company and Impact.

RTP Company and Impact Colours collaborate in offering
universal masterbatch products to the European plastic community.

About Impact Colours
Impact Colours, based in Rushden, Northamptonshire, is a market leader in the design, manufacture and supply of masterbatches for the plastics industry. Impact provides a complete colour management service from colour design to the supply of colour, additive and special effect masterbatches. For more information, contact Impact at +44 193 350 500 or www.impactcolours.co.uk.

About RTP Company
RTP Company, headquartered in Winona, Minnesota, is a global leader in specialty thermoplastic compounding. The company has eight manufacturing plants on three continents, plus sales representatives throughout North America, Europe, and Asia/Pacific. RTP Company's engineers develop and produce custom compounds in over 60 different engineering resin systems for applications requiring colour, conductivity, flame retardancy, high temperature, structural, elastomeric and wear resistant properties.

For more information, contact RTP Company's European Color Division at +33 380 25 30 00 or www.rtpcolor.com.

UniColorTM and UniColourTM are trademarks of RTP Company.


More from Mechanical Components and Assemblies