RS485 Transceivers have switchable, integrated termination.
Press Release Summary: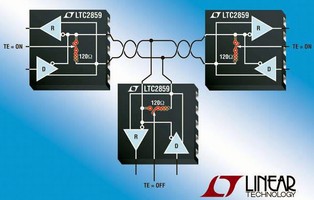 Manufactured in DFN packages, LTC2859 and LTC2861 are half- and full-duplex RS485 transceivers with software-switchable, integrated termination. Slew rate control pin allows data rates up to 20 Mbps or low-EMI mode at 250 kbps. Bus pin protection exceeds ±15 kV for ESD strikes, and receiver input impedance allows up to 256 nodes on single bus. Specified over commercial and industrial temperature ranges, products have integrated, logic-selectable termination resistor.
---
Original Press Release:

Switchable, Integrated Termination Simplifies RS485 Networks



MILPITAS, CA - March 9, 2006 - Linear Technology Corporation introduces the LTC2859 and LTC2861, half-duplex and full-duplex RS485 transceivers with switchable, integrated termination. Traditional RS485 networks require 120-Ohm termination resistors to be installed by the end user based on the physical layout of the twisted-pair wires and the placement of the nodes. As the bus is extended, the termination must be changed again by the end user. Switching the integrated termination in the LTC2859/LTC2861 on or off under software control allows the proper nodes to be terminated without the end user's physical intervention.

In addition to the innovative termination capacity, the LTC2859/LTC2861 offer advanced transceiver features for industrial, medical and automotive applications. A slew rate control pin allows data rates up to 20Mbps or a low-EMI mode at 250kbps. The bus pin protection exceeds ±15kV for ESD strikes (Human Body Model). The receiver input impedance allows up to 256 nodes on a single bus. These features provide more functionality than existing RS485 transceivers and the integrated termination combined with the tiny DFN package provide a smaller solution overall.

Specified over the commercial and industrial temperature ranges, the LTC2859 is offered in the 10-lead (3mm x 3mm) DFN package and the LTC2861 is offered in the 12-lead (4mm x 3mm) DFN and 16-lead SSOP packages. Pricing begins at $1.55 each in 1,000-piece quantities.

Summary of Features: LTC2859/LTC2861
Integrated, Logic-Selectable 120Ã(TM) Termination Resistor
No Damage or Latchup to ESD: ±15kV HBM
20Mbps Max Data Rate
250kbps Low-EMI Mode
High Input Impedance Supports 256 Nodes

Guaranteed Failsafe Receiver Operation Over the Entire Common Mode Range

Available in 10-Pin 3mm x 3mm DFN, 12-Pin 4mm x 3mm DFN and 16-Pin SSOP Packages
RS485 with Integrated Termination

Company Background
Linear Technology Corporation, a manufacturer of high performance linear integrated circuits, was founded in 1981, became a public company in 1986 and joined the S&P 500 index of major public companies in 2000. Linear Technology products include high performance amplifiers, comparators, voltage references, monolithic filters, linear regulators, DC-DC converters, battery chargers, data converters, communications interface circuits, RF signal conditioning circuits, and many other analog functions. Applications for Linear Technology's high performance circuits include telecommunications, cellular telephones, networking products such as optical switches, notebook and desktop computers, computer peripherals, video/multimedia, industrial instrumentation, security monitoring devices, high-end consumer products such as digital cameras and MP3 players, complex medical devices, automotive electronics, factory automation, process control, and military and space systems. For more information, visit www.linear.com.

LT and LTC are registered trademarks of Linear Technology Corp.

Contacts

John Hamburger
Tel: (408) 432-1900 ext. 2419
jhamburger@linear.com

Doug Dickinson
Tel: (408) 432 1900 ext. 2233
ddickinson@linear.com

More from Communication Systems & Equipment