RS-232 Transceivers support data rates to 1 Mbps.
Press Release Summary: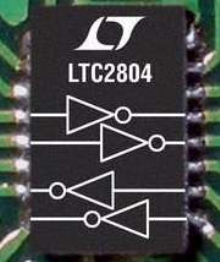 Designed to operate over input supply range of 1.8-5.5 V, single and dual RS-232 transceiver models LTC2801/2/3/4 ICs integrate boost converter and provide ±10 kV ESD protection on RS-232 pins. Control pins invoke optional shutdown, receiver active, and driver disable features. Featuring 1 µA shutdown current and 15 µA receiver-active current, LTC2802/4 support 1 Mbps data rate for proprietary diagnostic links, while LTC2801/3 support rates to 250 kbps.
---
Original Press Release:

Rugged RS-232 Transceivers Operate Down to 1.8V & Up to 1Mbps


MILPITAS, CA - April 20, 2005 - Linear Technology Corporation introduces a family of single and dual RS-232 transceivers that operate over an input supply range from 1.8V to 5.5V. The low voltage accommodates systems powered from two alkaline, NiCd or NiMh cells, or systems that interface directly to a low voltage logic supply. This is beneficial for applications ranging from board-level diagnostics to portable instruments. Offering low 1uA shutdown current and a 15uA receiver-active current, the ICs are an attractive solution for any application that communicates through the RS-232 interface. The LTC2802 and LTC2804 support up to 1Mbps data rates for proprietary diagnostic links. The LTC2801 and LTC2803 are capable of rates as high as 250kbps.

The ICs integrate a boost converter for generating the required RS-232 output signal levels. Control pins invoke optional Shutdown, Receiver Active and Driver Disable features. The ±10kV ESD protection on the RS-232 pins guards against electrostatic discharges that can be encountered during operation, while eliminating the need for external components.

The LTC2801 and LTC2802 are single transceivers, offered in a tiny 3mm x 4mm DFN package. The LTC2803 and LTC2804 are dual transceivers offered in 16-lead SSOP and 16-lead DFN packages. Specified over the commercial and industrial temperature ranges and available from stock, pricing begins at $1.60 each in 1,000 piece quantities.

Summary of Features: LTC2801, LTC2802, LTC2803 & LTC2804

o 1.8V to 5.5V Supply Voltage

o Single and Dual Transceivers

o High Speed Operation

- 1Mbps for 250pF/3kOhm Load (LTC2802/LTC2804)

- 250kbps for 1nF/3kOhm Load

- 120kpbs for 2.5nF/3KOhm TIA/EIA-232-F Load

o Low-power 1uA Shutdown and 15uA Receivers Active Modes

o No Damage or Latch- up to ±10kV ESD on RS-232 Interface

o True RS-232 Compliant Output Levels

o LTC2801/LTC2802 3mm x 4 mm DFN Package

o LTC2803/LTC2804 Narrow SSOP-16 and 3mm x 5mm DFN Packages

COMPANY BACKGROUND: Linear Technology Corporation was founded in 1981 as a manufacturer of high performance linear integrated circuits. Linear Technology products include high performance amplifiers, comparators, voltage references, monolithic filters, linear regulators, DC-DC converters, battery chargers, data converters, communications interface circuits, RF signal conditioning circuits, and many other analog functions. Applications for Linear Technology's high performance circuits include telecommunications, cellular telephones, networking products such as optical switches, notebook and desktop computers, computer peripherals, video/multimedia, industrial instrumentation, security monitoring devices, high-end consumer products such as digital cameras and MP3 players, complex medical devices, automotive electronics, factory automation, process control, and military and space systems.

For more information, contact:

Doug Dickinson, Media Relations Manager
Linear Technology Corporation
1630 McCarthy Boulevard
Milpitas, CA 95035-7417
ddickinson@linear.com
408-432-1900

Note: LT, LTC, and are registered trademarks of Linear Technology Corp.

More from Electrical Equipment & Systems