Router operates from 15 A motor.
Press Release Summary: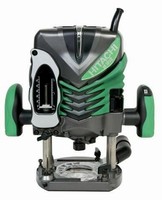 Designed for groove cutting, chamfering, window cutting, trimming, shaping, and pattern cutting, M12V2 plunge router features soft start 15 A motor that produces 3¼ peak hp. Dust guide diverts dust and debris away from workpiece and user, and collet chuck secures bit into armature shaft for maximum hold. Weighing 13.9 lb, M12V2 is equipped with electronic variable speed dial, produces 8,000-22,000 rpm, and can be converted for tabletop use.
---
Original Press Release:

Hitachi Power Tools Introduces a New 3-1/4 Peak HP Plunge Router, the M12V2



NORCROSS, GA., June 13, 2006 - Hitachi Power Tools today announced its new 3-1/4 Peak HP Plunge Router, the M12V2. This ergonomically designed router is an upgraded version of Hitachi's established M12V that has been selling for 17 years. The newly redesigned model offers a powerful 15Amp motor that delivers top of class cutting speed to rout through hardwoods with ease, a variable speed dial on the handle for easy speed adjustments and a quick & fine adjustment knob that combines both functionalities without the need for accessories. This model easily converts for table use and is covered by Hitachi's industry leading 5-year warranty.

Designed for impressively smooth groove cutting, chamfering, window cutting, trimming, shaping and pattern cutting, the M12V2 does it all. This plunge router features a soft start 15Amp motor that produces 3-1/4 peak HP while reducing torque during start up. The unique structure of the router's armature and fan allow it to achieve class leading cutting speed for ultra smooth cuts through hardwoods.

Equipped with an electronic variable speed dial, the M12V2 produces 8,000 - 22,000 RPMs for a wider range of cutting applications through a wider range of materials. The variable speed dial is conveniently located on the handle so that the user can finely adjust the rotation speed without removing their hand from the tool or eyes from the work piece.

Unique to the M12V2 is the quick & fine adjustment knob. Most routers come equipped with a quick adjustment knob and some feature a separate fine adjustment mechanism. However Hitachi's new router combines both functionalities into the same mechanism without the need for additional accessories to set up the features. The M12V2 is equipped with a lever on the back of one of the plunge columns. When the lever is turned counterclockwise- the knob above can be used to quickly adjust the plunge depth. When the lever is turned in the clockwise direction- then the user can finely adjust the knob atop- loosening it counterclockwise for a shallower cut or clockwise to get a deeper cut allowing for more control and less manipulating of the machine to achieve a desired plunge depth result.

The M12V2 easily converts to table use. The operator can detach a spring from inside one of the columns that normally assists the movement of the housing during plunge operation. Once installed in a table without the spring, the load of movement of the main body is light and is easy to slide. Bits can also be easily changed from a table mounting. This router is constructed so the collet chuck protrudes approximately 6mm from the upper side of the table. Because of this design, the bit can be easily replaced. The M12V2 comes equipped with an improved collet chuck that secures the bit into the armature shaft for maximum hold.

A new feature of the M12V2 is a dust guide that diverts dust and debris away from the work piece and user. The material is directed in a consistent direction and can be hooked up to a shop vac if desired. This hefty router weighs 13.9 lbs making it safe and stable for freehand routing. It reflects the aggressive new ergonomic design being implemented by Hitachi Power Tools. Hitachi is pioneering yet another new trend in the industry- tools that incorporate the latest technology with ergonomic design- a look that will modernize the traditional workshop or jobsite.

Hitachi's M12V2 comes complete with an exclusive accessory pack that includes a straight guide, centering gauge, dust adapter, guide bar, wing bolt, wrench and ½" & ¼" collet chucks. It is the ideal router for woodworkers and carpenters, who demand precision and reliability. A single speed (22,000 RPM) 3-1/4 Peak HP plunge router is also available independently (M12SA2). For more information including the full line of Hitachi products and support, please contact Hitachi Power Tools at 1-800-829-4752 or visit www.hitachipowertools.com

HITACHI POWER TOOLS U.S.A.
Hitachi Power Tools carries an extensive line of professional grade tools and accessories for: woodworking, metalworking, concrete drilling and cutting, as well as a complete line of pneumatic nailers, staplers, compressors and collated fasteners. During the 1980s Hitachi Power Tools U.S.A. built its reputation for quality on the success of its pneumatic framing nailer and sliding compound miter saws. In 1995 Hitachi Power Tools U.S.A. was renamed Hitachi Koki U.S.A. to denote the addition of manufacturing to the United States.

From headquarters in Atlanta, GA, and satellite offices in Chatsworth CA and Toronto ONT, Hitachi Koki U.S.A. supports nearly 2000 retail locations carrying Hitachi tools and over 1000 authorized service centers. The field sales force and service technicians constantly provide information to engineers to refine and upgrade the product selection. Many tools in the line are designed and offered for use only in North America. With dozens of new models already in development, Hitachi Power Tools enters the 21st century with Hitachi Koki U.S.A. continuing to offer the highest level of professional power tools available.

More from Packaging Products & Equipment