Router Bits have custom-blended carbide with titanium.
Press Release Summary: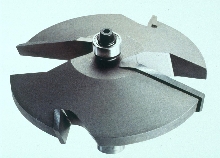 Router Bits, offered in 119 models, have 1/4 and 1/2 in. shanks. Machined from high-speed tool steel, they are tri-metal brazed for impact-resistant bond between carbide and bit. Computer-balanced body eliminates vibration and chatter. Constant relief angle on entire cutting edge provides flawless finish and reduces burning. Shielded ball bearings, with high-temperature lubricant, withstand stresses of turning 22,000 rpm.
---
Original Press Release:

New Line of Professional Router Bits Introduced by Milwaukee Electric Tool


119 new bits offer superior performance and durability.

Brookfield, WI (July 2002) - Milwaukee Electric Tool Corporation has expanded their line of professional, carbide and carbide tipped router bits from 68 sku's to 119 sku's. This expansion coupled with the introduction of the popular new Body-Grip(TM) Router, D-Handle Router, Edge Guides and Router Template Guides is a clear indication that Milwaukee is serious about professional woodworking! So what makes Milwaukee router bits stand out in the crowd?

o Custom-Blended Micrograin Carbide with Titanium
Holds a sharp edge longer, resulting in an extended life of bit.

o Multi-Axis Ground Relief Angles
Constant relief angle on entire cufting edge provides a flawless
finish and reduces burning.

o Computer Balanced Body
Eliminates vibration and chatter resulting in clean, smooth profiles.

o Tri-Metal Brazed
For stronger, impact-resistant bond between carbide and bit.

o Kick-Back Reducing Full-Body Design
Restricts tooth bite, reducing the effects of kickback from overfeeding.

o Shielded High-Quality Ball Bearings
Ball bearings are lubricated with a high temperature lubricant to withstand the stresses of turning 22,000 rpm, and shielded to keep out unwanted wood, dust and chips that can reduce bearing life.

o Precision Ground Shank
Coupled with a computer balanced body, provides a bit that has no "wobble" resulting in clean, smooth flawless profiles.

o Machined Body Design
Machined from high-speed tool steel providing a full-body design that is symmetrical, balanced, and superior in performance and longevity.

o Complete Router Bit Line
Line increased from 68 sku's to 119 sku's of 1/4" & 1/2" shanks in the most popular profiles.

o Professional Woodworking System
Our new router bit offering coupled with our BodyGrip(TM) and D-Handle routers, edge guide and router template guides, are clear indications that Milwaukee is serious about woodworking professionals.

o Retail Friendly Packaging
New bits are packaged in clamshells instead of vinyl sleeves, providing a stronger package with more retail appeal.

For more information on Milwaukee's new line of professional carbide and carbide-tipped router bits, contact Milwaukee Electric Tool Corporation, 13135 West Lisbon Road, Brookfield, WI 53005; toll free 1-800-414-6527.

Milwaukee Electric Tool Corporation, a company within the Atlas Copco Group, is a leading producer and seller of heavy-duty portable electric tools and accessories. More information is available on the company's website: www.mil-electric-tool.com

More from Electrical Equipment & Systems