Rousseau - Specially Patented Products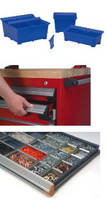 As a leader in product innovation and development, many of our products hold patents. Here are some of our solutions with exclusive concepts:

· Plastic bins;

· Partial dividers;

· Integrated lock-in mechanism for heavy-duty drawers;

· One-drawer-at-a-time mechanism;

· Partition & Divider system;

· Support for NC Tooling (CNC);

· Vertical adaptor for electrical and air outlets;

· Panel bracket kit.

In addition, we have registered an industrial design for the compact drawer. Please note that the unique shape of the Spider® post and the R drawer are Rousseau Metal inc. trademarks.


More from Electronic Components & Devices