Roundness Testers support multiple measurement modes.
Press Release Summary: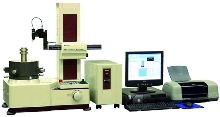 Roundtest® RA-2100 Series measures rotational parameters associated with roundness/cylindricity and can also be equipped to perform surface roughness testing. Available with fully automatic or manual navigation-type workpiece centering, system also performs rectilinear measurements. Testers come with controller, RoundPak v5.0 software, PC with flat panel display, and color printer. Vertical travels of 300 or 500 mm are offered, depending on model.
---
Original Press Release:

Mitutoyo Roundtest® RA-2100 Systems Support Multiple Measurement Modes


(Aurora, IL) New Roundtest® RA-2100 Series roundness/cylindricity measurement systems from Mitutoyo America Corporation offer extreme flexibility of function and operation. While supporting the full range of roundness measurement routines, Roundtest RA-2100 can also be equipped to perform precision surface roughness testing. Additionally, Roundtest RA-2100 systems offer a choice of fully-automatic, or manual navigation-type workpiece centering.

The Mitutoyo Roundtest RA-2100 measures the full range of rotational parameters associated with roundness/cylindricity including: roundness (LSC/MZC/MIC/MCC), flatness (single circumference, multiple circumference), squareness (against axis, against plane), concentricity, coaxiality (of section, of axis), parallelism (single-radius, multiple-radius), thickness deviation, run-out and diameter. The system also performs rectilinear measurements including straightness, taper ratio, slope, and can also generate spiral measurements.

When equipped with a roughness detector probe (optional), the Mitutoyo Roundtest RA-2100 becomes a full-featured, high precision surface roughness testing system. With the Mitutoyo Roundtest RA-2100, workpieces can be fixtured once - then inspected two ways - for improved process productivity.

Roundtest RA-2100 supports two types of workpiece centering and leveling. High-speed, automatic centering and leveling utilizing Mitutoyo high-accuracy linear scales minimizes positioning error while rapidly yielding results.

Roundtest RA-2100 also offers DAT (Digital Adjustment Table) aided, navigation-type centering and leveling that makes manual set-up quick and easy, even for untrained operators.

Roundtest RA-2100 turntables utilize a high-precision air bearing suspension for extremely accurate rotation and elimination of performance deterioration due to wear.

Roundtest RA-2100 systems use RoundPak 5.0, a powerful graphical user interface which includes solid 3-D modeling as part of the intuitive part-program editing routine, as well as graphical machine controls and a selection of easy-to-interpret graphical measurement-analysis tools. It is a turnkey system complete with controller and software pre-loaded into an included PC with flat panel display and color printer.

Mitutoyo America Corporation's nationwide network of Metrology Centers and support operations provide application, calibration, service, repair and educational programs for industry. This ensures that our 6,000+ metrology products will deliver measurement solutions for our customers throughout their lifetime. Contact Mitutoyo America Corporation, 965 Corporate Boulevard, Aurora, IL 60504. Phone: (630) 978-6455 Fax: (630) 820-7403
E-mail: info@mitutoyo.com Or visit our website at www.mitutoyo.com

More from Electronic Components & Devices